Like many students trained at Patrick Henry College, Tim Doozan held strong political aspirations when he came onto campus. Throughout his four years, he held several internships in Washington – and even took a semester off to help lead a US Senate campaign in South Dakota. But, strangely, his ambitions changed as he neared graduation. Like the Founding Fathers, this alum believes that a person with sights set on an elected office should serve the community and gain their respect before presuming to lead them. That's why he's started his own family, moved into the Purcellville area, and founded his own company, with a heavy emphasis on relationships.
"By and large," Doozan says, "the season of statesmanship for people should be in their later years. At least for me, I thought there were a lot of things I needed to learn outside the political system in order to bring the right education and perspective to the political system." Call him idealistic, but he believes that public office is something to be earned over time, not rushed into prematurely or purchased.
This doesn't mean that Doozan has lost his political drive. He interned at the White House in the spring of '04 for the Office of Political Affairs, one of the most-desired workplaces in D.C. But his heart for people sets him apart. As he now runs an insurance and investments practice through Northwestern Mutual (one of the few stable financial companies in today's economy), Doozan prays for clients and those he works with. His job is to provide them with the best financial advice, but he also cares about the other aspects of their lives.
Early Years at PHC
In the growing timeline of PHC, Doozan is a patriarch. He was among the inaugural class who first stepped foot on campus in 2000, when construction of the school was still underway and students had to live in the basements of faculty members with homes in the area.
Doozan says he remembers when all of the student body could fit into the College's main classroom. Long stretches of cubicles took up the space in Founders Hall where faculty suites now reside. Nine years ago, you could have found Doozan burning the midnight oil at one of these cubicles, studying Congressional procedures with the conviction that he was going straight to Capitol Hill. But in 2004, he felt like God had put "a heart of entrepreneurship" in him. He had found a newfound desire to educate himself in the business world, where even the lowest workers encounter the challenge of budget management and social interactions.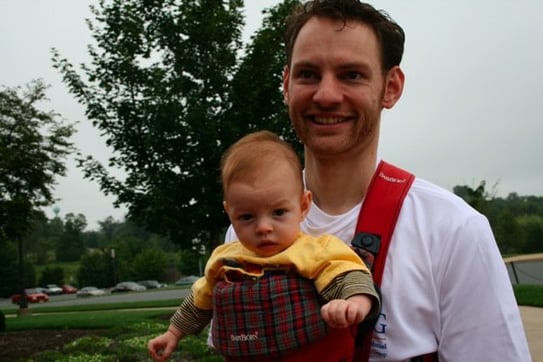 Doozan graduated PHC near the top of his 80-person class. Instead of a power suit and tie, the alumni put on shorts and a t-shirt after college. He got his hands dirty, quite literally, by starting a landscaping company that gave him his first taste of business ownership. Though the business grew rapidly, Doozan eventually decided to pursue a different track. "I enjoyed it but always knew that wasn't a long-term business for me."
Now, working with Northwestern Mutual, Doozan is a little more experienced, and a lot more at peace. "I love my job, I absolutely love it. In my business I meet a lot of people and have the opportunity to make a positive spiritual impact on their lives, whether or not they do business with me. My prayer is that God would just show me opportunities everyday to be a blessing to them, whether to just help them with finances or pray for them."
Sitting behind his desk at his new office in Purcellville, Virginia, Doozan exudes a confidence far more profound than mere job expertise. He is trusting in the Lord for whatever comes his way. In the meantime, he considers ministry an integral part of his life. Doozan has been on missions trips to the furthest reaches of the globe, including Haiti, Gambia, Kenya, and Norway. He plans to go on more missions trips with his wife, Lori, who shares his vision, and their children (the first of which was just born last April – Ayden William). The singular impression you get from chatting with Tim Doozan is that he lives a rich, spiritually fulfilling life, the kind described in Matt. 6:33: "Seek first the kingdom of God and his righteousness, and all these things will be added to you."