PHC Grad Relishes Unknowns of Marine Corps Adventure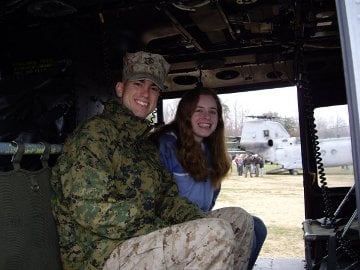 Ryan Akers (PHC class of '08), 21, is about to get very busy. He will soon be married, and has just graduated from Basic School training at the Marine Corps base in Quantico, VA. In July, he will attend Infantry Officer School, after which he will ship out to a base at some unknown location across the globe, trusting God for a future full of variables and unheard details.
On his shoulder he wears the rank of Second Lieutenant. In his hands he holds an M-16 rifle. And in his pocket he carries a Bible. The pages are most worn down at Romans 8:1-4, where Akers soaks in phrases like "There is therefore now no condemnation for those who are in Christ Jesus," or "For God has done what the law, weakened by the flesh could not do, by sending His own Son…."
"I love these verses for the very reason that it's easy to rely on myself," Akers says. "In the Marine Corps, with so much pressure to lead a group of Marines, there can be this temptation to feel guilty when you fail yourself and your platoon. But these verses say we don't have to despair. We have the promise that we don't walk in our own strength. We walk in the power God has given us through the death of Christ on the cross."
Akers says he is clinging to this hope as he faces accelerated training designed to expose a Marine's weakness and make him strong. Every morning, he wakes up to the placid green wilderness known as Quantico Marine Corps base. The silence is disrupted by the "hurrah" of Marines as they practice their hand-to-hand combat or run through an obstacle course. Then, later in the day, practicing the maneuvers they learned in class, the Marines put on their backpacks and stage mock battles in the woods with guns that fire blanks and maps that pinpoint routes of attack. Akers is expected to know how to lead his troops into their positions during exercises in which they attempt to surround and defeat the "enemy."
As he fights these smaller battles, and prepares for real battles on an unknown battlefield, Akers feels like he is beginning to grasp some sense of his role "in the larger scheme of things." For now, he believes that role will come to strategically intersect the global war on terror. To this end, Akers credits his professors at Patrick Henry College, and specifically the Strategic Intelligence major, for giving him a "big picture" of the war on terrorism.
"Most likely, I'm going to be a platoon commander in a smaller platoon that is fighting in isolated battles," Akers says, "but I will always know in the back of my head why we're there, and why we're doing what we're doing."
For now, Akers waits to be assigned to an infantry battalion either in the U.S. or in Okinawa, Japan, from whence he will be deployed overseas. He will find out his exact coordinates while in Infantry Officer School. "For me, I'll be looking at going out into the operating forces as a platoon commander in an infantry company. A platoon is 30 to 40 men, and there are four platoons in a company, so I'll command one of those platoons in the company. I'll be responsible to make sure they're properly trained and prepared for deployment. And I will lead them into combat directly or make sure they have everything they need."
Akers is locked on to his mission, has carefully trained and prepared himself, and stands ready for the next assignment, come what may. Yet his peace comes in knowing that whatever triumphs or setbacks he experiences, his trust rests in the Lord alone.