PHC Grad Accepted to Harvard Law
May 1st, 2007
Patrick Henry College graduate Matthew du Mée made Patrick Henry College history when he recently became the college's first alumnus to be accepted to Harvard Law School.
"Harvard is arguably the top law school in the country," said PHC Chancellor Michael Farris. "A degree from Harvard Law opens up a wide range of career opportunities and gives instant credibility."
Du Mée was accepted to all four law schools to which he applied, including Columbia University, Arizona State University, and the University of Arizona. He plans to attend Harvard Law as long as he "can make the financial calculations work out."
Du Mée acknowledges the great impact that his time at PHC will have on his academic future. "PHC's rigorous academics, utilization of the Socratic method, and the constant intellectual dialogue on campus have given me great training for law school," he said.
Although he's the first to gain acceptance to Harvard Law, Du Mée is certainly not the first PHC graduate to attend law school. Some PHC alumni law students include John Vinci and Rachel Williams at Regent University, Kyle Pousson at Duke University, Galen Thorpe* at Georgetown University, and Zach Martin, Matthew Schwartz, and Jeremy Purves at George Mason University.
Du Mée currently resides in Phoenix, Arizona with his wife Christy, a fellow PHC graduate. He works as a Legal and Policy Aide for the Center for the Arizona Policy, Arizona's top pro-life, pro-family organization. Du Mée says that, like most PHC graduates, he looks forward to impacting the culture, and he recently did just that when a bill he drafted passed unanimously through the State Legislature.
House Bill 2734 is designed to help protect children from sex offenders in cyberspace. It requires sex offenders to register email addresses and screen names with the police. It also allows citizens to check specific email addresses and online identities on Arizona's sex offender website to see if that the person emailing or instant messaging their child is a sex offender.
"My chief goal though," du Mée concluded, "is to do all that I do with excellence, and to do it for the glory of God."

Other PHC Graduates Attending Law School
Daniel Chapin, Wake Forest University School of Law
Mark Leichliter, Regent University School of Law
Zach Martin, George Mason University School of Law
David McKennett, George Mason University School of Law*
Jonathan Nelson, George Washington University School of Law*
Aaron Noble, Texas Wesleyan School of Law
Jeremy Purves, George Mason University School of Law *
Matthew Schwartz, George Mason University School of Law
Mark Wohlschlegel, Regent University School of Law

* = graduated.
Interview by David Halbrook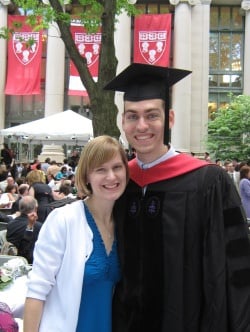 Matthew du Meé arrived at Patrick Henry College in only its second year, having earned a perfect 1600 score on the SAT. During his years at PHC, he proved himself a champion public speaker, defeating a renowned moot court team from Balliol College, Oxford, with his partner, Rayel (Papke) McKennett, in a head-to-head duel, both at home and abroad. Shortly after graduating from PHC, he married PHC graduate Christy Ross and won the national television game show Wheel of Fortune. He entered Harvard Law School in the fall of 2007, graduating in 2010. He presently serves with the Arizona Supreme Court as a law clerk for Vice Chief Justice Andrew Hurwitz.
What were the highlights of your Harvard Law School career?
Academically, the highlights were graduating with honors and making the Law Review. I also loved Trial Advocacy Workshop, a compressed course in which we learned about how to try a case in court. Socially, I most enjoyed making new friends from all walks of life and getting to know some incredible people. Christy became my section's favorite person by sharing her wonderful baking with my classmates.
Describe your time as editor of the Harvard Law Review.
Being on the Law Review was a lot of hard work, but it was rewarding to see those efforts rewarded in well-edited issues. I got a reputation as the "Fun Coordinator" for organizing games and Wii Wednesdays, and for leading our intramural flag football team to the semifinals.
Did Harvard Law present you with any academic challenges or surprises?
I was most pleasantly surprised at how down-to-earth and accepting my fellow classmates were. It's easy to have an impression of Harvard students as snobs, but the vast majority of students were incredibly nice and fun to be around. I also was very surprised to discover that the dreaded first year of law school was less academically demanding than my freshman year at PHC. I only got five hours of sleep a night my freshman year in college, and easily got a full night's sleep at Harvard Law.

Describe the spiritual climate at Harvard Law, and tell us how you maintained spiritual vitality throughout.
Christy and I attended a fantastic little church and hosted a weekly Bible study. That was a real encouragement to us, and I met many other Christian students at school as well. An interesting dynamic of Harvard is that students are truly tolerant of other people's views. Other students respected your positions and beliefs. In some ways, this made it more difficult to engage people in spiritual conversation, as people preferred to stick to "You believe what you believe; I believe what I believe" and that can make it difficult to communicate that the Gospel is absolute truth, and Jesus is the only way to heaven.
Looking back, how did your expectations of attending law school match the reality, and how has that reality affected your perceptions and goals for a law career?
I expected law school to be more difficult than it was, but I enjoyed the challenge that it did present and tried to embrace many of the opportunities Harvard offered. I originally was planning to be a prosecutor, but the budget crisis in Arizona foreclosed that opportunity, so (to my surprise) I will be working at a firm. A firm job means longer hours, but provides a chance to pay off those pesky law school debts faster.
Describe your present position with the AZ Supreme Court.
I am currently working as a law clerk for Vice Chief Justice Andrew Hurwitz. This is a one-year position that is highly coveted by law students, as you get to see the process of law from the other side of the bench and interact directly with a judge. I have really enjoyed the experience and am glad God opened this door.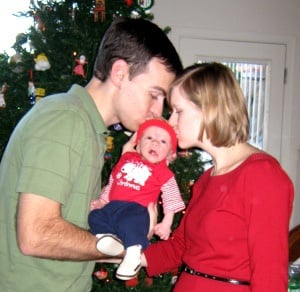 How did this opportunity come to pass?
I originally wasn't planning on applying for clerkships, but the poor economy led many firms to ask prospective hires to clerk for a year to ease the hiring crunch. I knew I would want to clerk in Phoenix, as we were tired of the cold Cambridge weather, so I sent in a resume, and one of the justices offered me a job. It has been a great fit.
What is your vision for moving forward for your law career, and what are your next steps?
I will be moving to Perkins Coie's Phoenix office this fall and working in their litigation department. Eventually, I would like to run for state office.
Can you share how your PHC education and moot court experience has served you both in law school and in your present endeavors?
The rigorous academic standards prepared me well for law school, and my moot court experience landed me a spot on the International Arbitration Moot Court team. In my second year of law school, the team traveled to Vienna for an international moot court tournament, and, although we didn't win it all, my partner and I were the top-seeded team out of hundreds of schools entering out rounds. Best of all, we were able to pay for Christy's flight and lodging, and so she and I got to spend a week in Vienna together!
Tell us a little about your wife and family life.
Christy and I have been married for five wonderful years, and we had a little baby boy last November. God's timing was once again perfect, as little Daniel was born after law school, but before I start at the firm, which will entail some long hours. The law clerk schedule has been more flexible and allowed me to help out with the new challenges of parenting, and experience many joys as well.
Can you share where you are now spiritually, as a Christian husband, father, lawyer, servant?
I'm plugging away! I remain completely confident that God works all things together for good, and I have seen him open just the right doors again and again. He is leading and guiding my life, and I have realized that I may plan my steps, but the Lord directs my path.