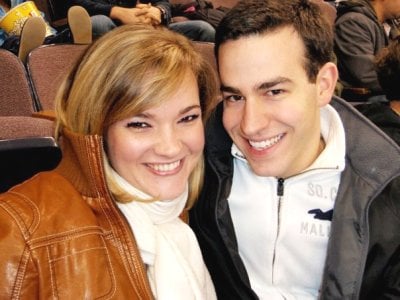 The City of Suffolk in southern Virginia covers the largest geographic area of any city in the Commonwealth. It hosts Joint Forces of Command, outposts of Northrop Grunman, Lockheed Martin, Raytheon, and over twenty public schools. For Patrick Henry College alumna Leila Roche (Journalism, '09), an education and north Suffolk reporter for the Suffolk News Herald (SNH), it comprises a vast and unique news beat. While she could be sitting in on a business meeting with the Joint Forces of Command on Monday, Tuesday might find her mucking through mud on a local farm.
"I don't have any day that looks the same as the last," says Roche, "That's the beauty of my job. One day I'll be talking to a family while their house is burning down, or to a mother whose 17-year-old son was shot to death. The next day I'll talk to the CEO of the Virginia Modeling and Simulation Analysis Center, one of the most forward-moving companies in its industry."
Typically, Roche works eight to thirteen hours a day—a difficult workload, but not uncommon for a woman who, during her last semester at PHC, worked three jobs, completed a demanding internship, took classes, and planned a wedding. She writes between two and seven articles each day, an impressive workload that she says she is able to maintain because of the "academic intensity" her PHC education provided.
After she had finished her job interview with SNH, for example, Roche "thought it went okay," but wondered afterwards if she might be a "little out of [her] league.
"The most I'd ever done was an article a week," she explains. "But I told them, if I could write a 20-page paper in a day, I could write two articles a day."
Apparently, they agreed, because later that week the editor called her back and gave her the job. Roche's new colleagues told her the editor showed them her resume because it displayed an amazing amount of experience, gained through various internships and through editing PHC's student magazine, The Source. And she's been working for SNH ever since, finishing her daily articles and writing the front of the "B section," which includes articles on health and fitness, food and beverage, and home and garden, twice a week.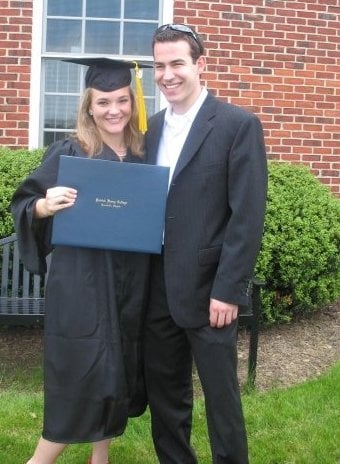 All this does not downplay the difficulty of finding a job in a tough economy, particularly when many print papers have already been facing setbacks. Roche searched for a journalism job from February of her last semester until a month and a half after her graduation and wedding. Coming up empty-handed, she took two retail jobs instead, soon moving into lower management at one, which enabled her to quit the other. All the while she kept "an eye on journalism job openings." She emailed an editor on the Virginian Pilot and asked her for advice.
"It was through one of her recommendations that I found an opening at [SNH] in November and figured I should at least apply," says Roche.
Roche states that her education and connections from PHC's journalism program gave her the edge she needed to rise above the 200-plus other applicants.
"Not only did Dr. Sillars give me a thorough foundation to be able to write a solid news article," she says, "but the internship aspect of the program was integral to my ability to get a job in my field during one of the worst recessions in our nation's history. The connections that our program had with the employers were integral. Our students have a good reputation in the journalism community. That was key to securing those internships."
She adds, with a touch of humor, "Dr. Sillars was an incredible mentor—wise beyond his 'many' years."
As evidence of this, she recalls that once, after a grueling, 14-hour day working in the Journalism Lab, Dr. Sillars told Roche that "there are some things not worth doing right." A perfectionist, she took that advice away and says that "it has been key to my success at SNH.
"At the end of the day, I might not have every quote I wanted or have interviewed everyone I wanted to, but I sit down and work with what I have to get the article done by deadline," she relates. "Deadlines, my sanity, and the balance I have between work and my husband aren't worth compromising."