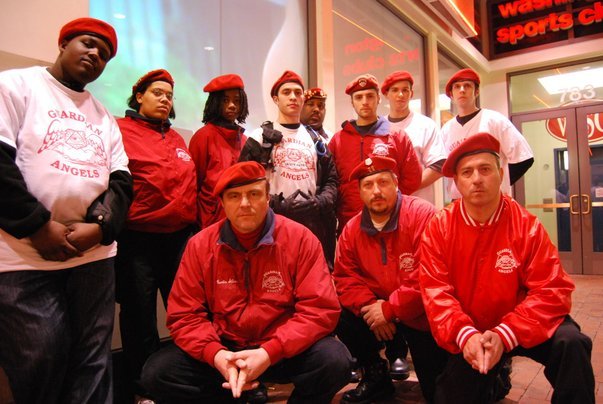 Jordan Estrada spent his first night on the streets with the Guardian Angels breaking up a drug deal and chasing down a pocketbook thief. The location was northeast Washington D.C., the Adams Morgan Bar and Pubs, where "by 3 a.m., everyone is seriously intoxicated," Estrada said.
Estrada, a 2008 PHC alumnus, has been part of the Washington, D.C., Guardian Angels since October of 2008, and breaking up bar fights and drug deals, chasing down thieves, and protecting the people around him are all in a night's work. While countless gangs, from the MS-13 to the Crips and Bloods, band together to do evil, the Alliance of Guardian Angels, self-described as the "antithesis to gangs," bands a group together with an entirely different purpose—to do good and to protect a community.
A volunteer organization founded in 1979 in New York City, the Guardian Angels patrol and safeguard cities, streets, and towns, armed with nothing more than a flashlight, a pair of handcuffs, and a CPR mask. Today, the Guardian Angels have roughly 6,000 members and over 100 chapters within the U.S., with even more chapters overseas.
In the five months that Estrada has been part of the Angels, he has become the D.C. area patrol leader, responsible for organizing patrols and finding recruits. At this point, the D.C. chapter is small, with only about a dozen active members. There are few incentives and many drawbacks—like the bitter D.C. winter cold—which keep volunteers from coming out, Estrada said.
In between his full-time job as a security officer for a government contractor, Estrada organizes at least two patrols a week in the most dangerous parts of D.C. The Guardian Angels, easy to spot in their uniforms and red berets, carry no knives, guns, or other weapons as they patrol. But according to Estrada, their very presence is a deterrent to crime.
Estrada also believes that because the Angels are unarmed, and because they have such a historical record of involvement and care for the community, people are more willing to respect them. Often, people are more willing to come or speak to the Angels, rather than the police, he said.
According to John Ayala, D.C. Director of Operations, the Guardian Angels are "an alternative to gangs." Young people need role models and have a desire to be involved, he said. Too often, in their desire to join a "brotherhood," they fall prey to the gangs. "We wanted to show people that young people can get involved in the community without carrying guns," he said.
But certainly, there are risks that come with being part of the Guardian Angels. Dozens have been injured on the job, Ayala said, and six Angels have been killed in the line of duty over their nearly thirty-year history.
Ayala, who has been with the Angels for the past 24 years, was stabbed in the back with an ice pick in 1991. But Ayala's desire was to protect the public, and no ice pick or other danger was about to slow him down.
Estrada, too, finds the risk worthwhile. "God is not going to let anything happen to me that's not part of His plan," Estrada said.
The Guardian Angels have chapters in nine countries, including Japan, the UK, Canada, Mexico, and South Africa.
"In South Africa we are facing some of the worst crime in the world," said Charl Viljoen, the Angels Director in the City of Cape Town, South Africa. 24 years ago, Viljoen first heard of the Angels through a Reader's Digest article. Years passed, and crime increased in his home of South Africa. In 2005, he decided to step up. "I went ahead and contacted Guardian Angels, New York," he said.
In South Africa, "we have more murders and rapes than anywhere else on earth, and our criminal attacks often look like terrorist attacks," Viljoen argued. If ordinary people do not get involved, "the police will be swept away, and we will follow shortly thereafter."
The fruits of Viljoen's labors are many. His Angels chapter has extinguished fires, searched for missing children, and prevented violent crimes. "We reduced the incidence of street prostitution by approximately 80 percent in six months after we started," Viljoen said, "and robberies [were] reduced by 42 percent within four months, due to Angels' patrols."
"Becoming a Guardian Angel… gives you the courage and self-esteem to tackle problems head-on and make a significant contribution to the future of your family and children," Viljoen said.
And while the streets of New York City, Washington, D.C., and South Africa are still too often dangerous, the smallest of rewards make it worthwhile for the unarmed volunteers in red berets. For John Ayala, "it's enough when a little old lady says, 'God bless you, keep up the good work.'"
A former Literature major at PHC, Estrada said his involvement with the Angels relates both to putting his Christian faith into action and to his lifelong aspiration toward the ideal of the "warrior poet."
"While it's important to be thoughtful, philosophical, and a seeker of the good, the true, and the beautiful, it's equally important to make a difference in the nitty-gritty world around you," Estrada said.