Former Student Body President Joins Advancement Staff
June 20th, 2012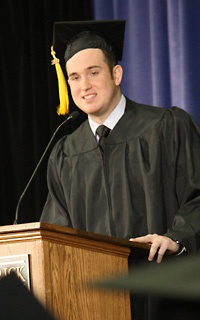 As a multi-talented, former student body president at Patrick Henry College who excelled in moot court, served as a dormitory RA, wrote for and edited the student newspaper and played sports, Jonathan Carden's post-PHC career prospects were pointed toward the nation's capital. As a senior, he had earned a prestigious communication's internship with the U.S. Chamber of Commerce, and after graduation followed his boss at the U.S. Chamber to the National Retail Federation in D.C., where he served as coordinator for communications and public affairs. For Carden, it wasn't just a great break for a first job out of college, it seemed a natural fit.
"I did a lot of writing, press releases, blog posts," he explains. "I wrote speeches and did graphic design, handled PowerPoint presentations for executives and compiled statistics on job numbers, consumer reports and employment regulations. It was a great job, a great opportunity, and I appreciated my boss, who was a mentor. I was grateful for the opportunity and enjoyed D.C., where a lot of my PHC friends also work and live."
And yet, navigating D.C.'s brutally ambitious professional byways had its drawbacks. "The D.C. culture is so much about politics and being a young up-and-comer," he observes. "In too many cases, it's also about rampant ambition unchecked by morals, so that if you're not extremely diligent in your walk, it can begin to supersede one's moral foundation. I've watched it happen. The pressure to succeed and desire to fit in can be disastrous for your conscience."
Six months into his new job at the NRF, Carden received an unexpected call from the PHC Advancement Office, inquiring about his interest in discussing a position as a major gifts officer. It seemed, at first blush, an abrupt departure from the communications career he thought he'd been grooming for. He politely said, 'Thanks, but no thanks.'
"My initial response was, 'I really appreciate it, but I have a good job,'" he recalls. "I didn't feel at time it was appropriate to even think about taking another job. I'm a loyal person, and I'd just started at the NRF, but as I thought more about it I became more interested. The idea of fundraising struck me as, 'Oh, maybe I would be good at that…' Still, the stigma of returning to College and moving back to Purcellville, rather than working in D.C., was a psychological barrier."
After interviewing with PHC's Vice President for Advancement Colin Stewart and taking counsel from PHC Trustee George Clay, a fellow Texan, he settled into a weeks-long process of prayer and consultation with family members, mentors, and friends, sifting through subtle issues of gifting, calling and, ultimately, God's will.
"Through prayer and counsel from family and mentors," he says, "it became more of a fine-tuned process of deciding what were the legitimate concerns of choosing between a career in public relations or fundraising. They're completely different tracks, but at the end of day, I decided that fundraising, and all that it entails, allows me to hit on more cylinders of my natural gifting, and of using skills aligned more completely with my personality and skill set."
Beginning as the College's new major gifts officer in November 2011, Carden has already crisscrossed the country a few times, traveling and meeting with families of prospective students, visiting PHC friends and donors and speaking at College-related events while learning the ropes of the advancement profession.
Tom Ziemnick, PHC's assistant vice president of advancement, says: "Jonathan has tremendous interpersonal skills, and he is able to walk with and relate to wide variety of people. Jonathan relates to people on their level and is as comfortable in a board room as he is on a ranch in Texas hill country.
"He also has a great personal story at PHC," Ziemnick adds, "and credits God and the College with helping transform him, in some respects, from a freshman underachiever with a chip on his shoulder to someone who has grown and matured and has a solid walk with God. Jonathan clearly credits his PHC experience, the faculty and administration, with facilitating his growth, so he is a great ambassador for what we're doing."
For Carden, the opportunity to give back to his alma mater in a job he both enjoys and believes suits his gifting has allowed him to see the past year's whirlwind, full-circle journey -- from PHC senior to D.C. professional, back to Purcellville – as part of a larger plan.
"Talking to folks about PHC is easy," he says, "because we are, in a very tangible way, meeting the needs of donors—and the country—by explaining what we're doing and what we stand for. Patrick Henry College is 'good news,' and in a little over ten years we've made amazing strides. Our mission is to equip a generation of leaders who are going to be difference makers for Christ, and we're allowing people to be a part of that. The mission of the College is infectious, so, in that respect, it's an easy job. My job is to get PHC in front of as many eyes as possible and let God do the rest. I'm very blessed to have that opportunity.""