Italian Adventure Follows Graduation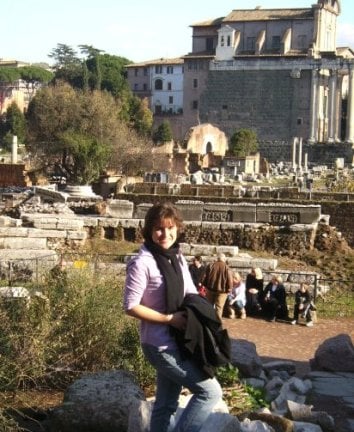 From the perspective of the typical hurried, harried American, Hannah Curby's somewhat eclectic Italian lifestyle seems unusually peaceful and pristine. Over Thanksgiving in 2008, for instance, she and a fellow PHC grad embarked on a playful holiday in Rome. After her years at a competitive, academically challenging college like PHC, Curby enjoys an Italian culture that is consciously geared to a more leisurely pace. At her new home in Modena, Italy, Curby works in a small bookstore and teaches two ESOL (English for Speakers of Other Languages) classes a day. In between she enjoys coffee breaks and deep conversations with her students.
"I started thinking about coming here the summer before my senior year at PHC," Curby (Literature, '06) relates. "I wanted to serve God with the talents He had given me, although I hadn't planned on doing so as a missionary—rather, the reverse."
Explaining the process that took her to Italy, Curby quotes C.S. Lewis: "This is the very portrait of a vocation: a thing that calls or beckons, that calls inexorably, yet you must strain your ears to catch the voice, that insists on being sought, yet refuses to be found." Back home in Oklahoma in the summer of 2006, Curby was "trying to figure out what to do with my life after graduation." Two missionaries with Avant Ministries in Modena visited her home church and spoke of their need for a teacher of English classes in their bookstore. Her sense that God was calling her to a unique Italian adventure grew stronger in the weeks to come, and when the decision was finally made, Curby spent the rest of that year raising support. On October 3rd, 2007, she arrived in Italy.
Curby has appreciated the atypical structure of her days. One time a student's garage flooded, and Curby was able to help her mop it. Another day, she was feeling "homesick and lonely and discouraged," so she went to read her Bible in the park. This turned into an opportunity to share the Gospel with a curious man nearby.
"That was just one of the many times when I got to see the strength of God at work when I was weak," reflects Curby. "And that is the biggest thing I have learned here. We're not strong enough, but God is, and He has given us gifts that He can use if we make ourselves available to Him."
Someday Curby would "love to have a family and children and homeschool them and write at least one book." Meanwhile, after her time as an ESOL teacher ends, she hopes to return to Italy with Avant Ministries on a five-year commitment as part of a Short-Cycle Church Planting team. For this work as a missionary, she has appreciated more and more the unique grounding of her PHC education, both spiritually and academically.
"The most important thing I learned during my time at PHC was about humility—that God loves me because of Who He is and not because of what I can do," she shares. "I can also see how the integration of spiritual and academic in my education has helped me a lot. Here in Italy, there's a huge disjoint between 'religion' and everyday life. People tend to assume that one is either religious or educated. My PHC background has helped me to challenge some of the 'educated' people with the notion that faith doesn't need to be blind—it works well with reason."
In a generation that finds itself increasingly confused about its purpose or reason for living, Hannah Curby is very like most PHC grads. She embarked on her journey abroad with confidence borne of a living faith, solid preparation, and the courage to stand firm and make a positive difference.