Former Moot Court Competitors Now at Harvard Law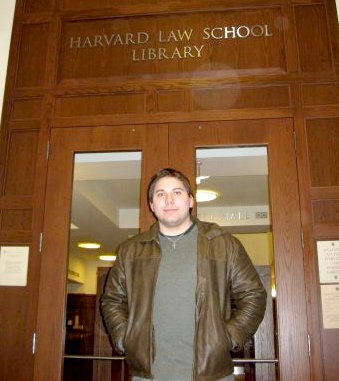 With dozens of Patrick Henry graduates spreading out across the globe, it might be surprising to find three graduates congregated in one Massachusetts town—particularly when that town is home to Harvard Law School. Yet as remarkable as it may seem for a college in only its ninth year, Patrick Henry College is proud to have three of its graduates congregated in Cambridge, Mass. pursuing law degrees at Harvard Law School.
What may not be so surprising is that all three students -- Lindsay See ('07), Mark Cianci ('07), and Matthew du Mee ('05) -- were involved in PHC's championship moot court program. Moot court or legal debate is an intensive simulation of appellate court proceedings that tests students' abilities in a range of exacting judicial disciplines – research, brief writing, and debate – that prepare students for success in a range of fields, but in particular those that involve the legal profession. Several of PHC's moot court alumni, in fact, now attend top graduate and law schools around the country.
"Patrick Henry College is attracting and preparing the kind of students who can go to the very top of the legal profession," says PHC Chancellor Michael Farris, who has coached the College's moot court team to three national championships in the past five years. "All three of the students were a part of our moot court team which shows that our hands-on approach works very well indeed."
Having spent his first year of law school at Boston University (BU), Mark Cianci transferred to Harvard Law this past fall. While Cianci had enjoyed his first year of law school at BU, making friends, forming a Christian Legal Society and founding a National Security Law Society, his dream was to clerk for a judge after graduating. Knowing his chances of a competitive clerkship were much higher coming from Harvard, he took a leap and mailed in his application. "Once I got in, I really couldn't turn it down," he said.
Since accepting the offer from Harvard, Cianci hasn't looked back. "I love Harvard!" he said, "I still can't believe I'm here." Given the recent election, our new president's ties to Harvard, and the fact that many Harvard faculty members have been appointed to the new administration, Cianci says it's an undeniably exciting time to be at the law school.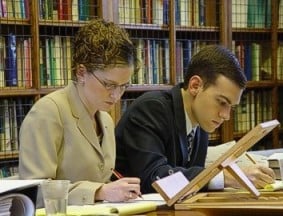 Having two other PHC graduates at the same school has been great, Cianci said. "I feel like there are so many PHC grads doing awesome things around the country," he said, "so it's nice to have a few nearby."
Matthew du Mée, who won first place in back-to-back tournaments with Oxford University in 2004 and 2005, has attended Harvard for the past two years. "My favorite part of law school is the endless legal questions, which always provide lots of food for thought and interesting discussion on what the law should be," he said.
Du Mée has found that his education and internship opportunities through PHC prepared him for the rigorous workload of Harvard, since the workload and effort required is similar. According to du Mée, after spending four years at Patrick Henry, "I already had the skills and experience needed to step right into a job and make a difference."