Passion for Politics and Life
The back bumper of Eve Marie Barner Gleason's car broadcasts the two passions that have marked her life ever since a young age: the pro-life movement and local Republican politics.
"I'm sure I have more than the average number of bumper stickers," the PHC graduate (Government, '04) says. A deep thinker whose Facebook page shares quotes from the Bible, G.K. Chesterton, C.S. Lewis, PHC's own Dr. John Warwick Montgomery, Alexis de Tocqueville, and more, Gleason believes that "truth matters, ideas have consequences and every soul I encounter is immortal."
Her awareness of the consequences of ideas occurred early. At the age of five, Gleason attended her first March for Life in D.C., where her young conscience was "struck by the injustice" of abortion. Even in childhood, she says, she understood that "women need resources" in the wake of an unexpected pregnancy. So, as a teenager, she began volunteering her time at the nearby First Choice Women's Health Center, developing convictions that followed to PHC as part of one of the College's inaugural classes. As a college student she continued serving the pregnancy resource center as an office manager and then a Client Services Director.
Over this same time frame, Gleason developed another, parallel passion – an interest in local politics – and began volunteering on campaigns as a teen. Later in college, she served as a magisterial district chair for the Loudoun County Republicans. In the 12 years between 1999 and 2011, she deepened her political involvement, working as the chair of the credentials committee for the Loudoun County GOP convention three times, overseeing with her team the registration of convention delegates who choose nominees for county offices. Then, after graduating from PHC, she lent new momentum to the Virginia Young Republicans by serving the group first as Vice Chair and then Chair. In succeeding years, her volunteerism has only grown.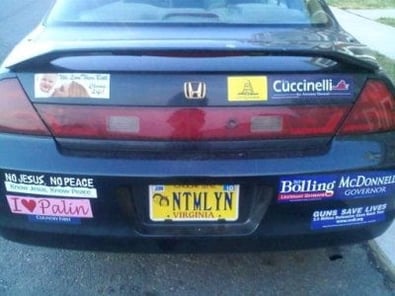 "It is easy to get excited about the star power of our national government," Gleason observes. "But the fact is that my school board administers 70 percent of our local tax dollars, and only 7 percent of state funding comes from the federal government. So who influences your daily life? The local school board. In American government, power flows both down and up from the state level."
Since graduating from PHC, Gleason worked for three years as Deputy Press Secretary for Representative Todd Akin (R-MO) and as a legislative aide for another three years with Republican Ken Cuccinelli in the Virginia Senate. Today Gleason serves as a Paralegal and Communications Specialist for Care Net, receiving and answering questions from pregnancy centers across the country, helping to ensure that they are maintaining legal standards and serving with integrity.
From her many years of first-hand experience, Gleason has acquired the perspective and inside knowledge of a long-term political veteran.
"The federal level is interesting," she confides, "but it is hard to get anything done. At the state level, a hardworking coalition can pass good legislation in a few years. At the federal level, it takes 20 years or longer. When the states are called the laboratory of democracy, those who have been around a while know how true that is."
Gleason enjoys the day-to-day impact she is able to make in the lives of women through her current duties at Care Net, and she believes her volunteer role in politics for the near future remains inside the Republican Party. While allowing that there are "conservatives both inside and outside the Party," she says that she and her new husband of 2010 share a vision to help those who stand for "principles, not power" inside the GOP.