Erik's Art Enriches and Beautifies PHC Campus
May 16th, 2013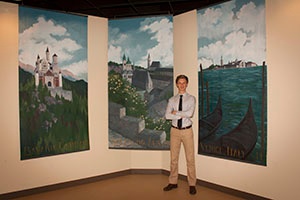 Ever since he was a pudgy toddler in his highchair, Erik Landstrom (Literature, '12) has loved everything artistic. "I think to delight in art is to delight in something distinctly humane," Landstrom said. "There is something wondrous about sharing in this facet of the imago Dei."
Dr. Steven McCollum said that in addition to keen artistic abilities, Landstrom has a heart for service. While on campus, Landstrom "did just a little bit more than everyone else to bless those around him," McCollum said. Today Landstrom teaches K-6 grade music and drama at Ad Fontes Academy in Centreville, Va., a private classical Christian school.

Landstrom said that his most cherished memories from PHC came from his participation with the PHC Music Department, both in the chamber orchestra and chorale. "I loved spontaneous musical gatherings. I loved chalk art on the sidewalk - don't forget the bubbles. I loved long conversations in the dining hall. I loved watching the sun rise over Lake Bob," Landstrom said.
In 2010 Landstrom toured Europe with the Patrick Henry Chorale. Three years later, Landstrom left a literal mark in chorale practice room to commemorate the concert tour on three panels depicting scenes from the trip.
"The panels in the choir room were an attempt to add some color and aesthetic quality to the room where any musically-inclined student is wont to spend many an hour," Landstrom said. "Dr. McCollum and I discussed different options for beautifying the space, and I was keen on creating something that was significant to our Chorale, something to commemorate where we've been as a group."
"The panels serve as a celebration of the tour and Erik as a student," McCollum said. "They raise the aesthetic level of the rehearsal space from little more than a drab room to a space that elevates our minds to the artist pursuits. It blesses my soul every time I come in and out of the room." McCollum said that the panels are part of Landstrom's artistic legacy at PHC.
Landstrom said looking back on his four years at college he sees how indebted he is to PHC for inviting him into the western tradition.
"A classical education is so much more than providing the right "facts" to teach," Landstrom said. "It is a way of living, a habit of being, a way of wonderment."
Today, as a teacher himself, Landstrom finds himself alongside his own students in their own journey into the tradition. "This has been such an extraordinary experience," said Landstrom.
Landstrom said that his final year at college was excellent preparation for his life as a teacher.
"I love being able to ask the same kinds of questions as my own professors asked me," he said. "I strive to love the material as much as they did - this truly is the defining characteristic of a meaningful teacher.
Several years ago, Landstrom was struck with the desire to be an educator, an overflow from his own love of learning. "If you do not love, if you do not wonder, if you do not actively seek, you are lacking the heart of what it is to be a teacher," he said.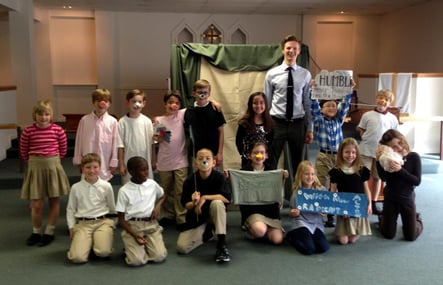 Landstrom does not have his own classroom at Ad Fontes Academy so he toggles back and forth between different locations.
Even so, Landstrom strives to create a clean and orderly space for his students to learn in. "As a fine arts teacher especially, I cannot ignore the aesthetic of the space, even if it is something as simple as tidy power cords and a symmetrical arrangement," Landstrom said.
He expects his students to conduct themselves in an orderly fashion, because Landstrom says that having established standards actually allows for greater liberty and ease among the students. With clearly defined and consistently upheld standards, the students can flourish. "I will not suffer any funny business," he said.
One day, Landstrom had to call out an apple-cheeked 3rd-grader, who pronounces all of her r's like w's, for speaking out of turn. She came up to him afterward to apologize. "I'm sorry, Mr. Landstrom, for being disobedient," she said. "I'm just under a lot of pressure these days."
On another occasion, Landstrom had just finished playing a simple song on the ukulele for his Kindergarteners to learn. A little boisterous towhead in the front row looked up in sheer rapture. "Why, Mr. Landstrom," he gasped. "That was beautiful." Landstrom said he was encouraged to see how serious and earnest a five-year-old could be. "I could see that the seeds of wonder were already taking root."
But teaching students to wonder is tricky. One cannot teach the student 'wonder' as you would a multiplication table, Landstrom said. "The only way to teach this is to live it oneself." The student perceives and senses the spirit of wonderment in the teacher's own presentation of the subject and sees how he or she delights in it even beyond the material presented. "As such, teaching - good teaching leastways - requires an actual method of being," Landstrom said. "The teacher himself has to wonder before he can hope to cultivate wonder to his students. The role of a teacher stretches into every moment of waking life."
Landstrom was recently hired to teach 5th grade full-time for the 2013-14 school year. He is excited to continue fostering a sense of wonder in the lives of his pupils.