Editor in Manhattan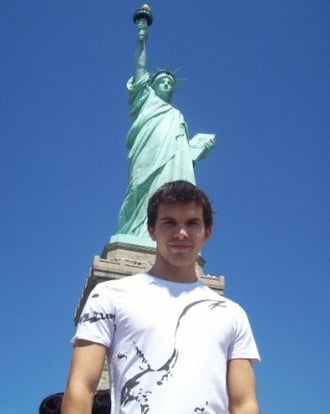 When he's not working at his New York City apartment, former Patrick Henry College student David Sessions is enjoying an office space at the Empire State Building. And when he's not contributing to Slate, the online publication where he interned in 2008, he's interfacing with his own writing staff to plot the next edition of the web-based magazine he created, Patrol.
Being from the South, Sessions can get caught up in the glamour of living in midtown Manhattan. But he has his work cut out for him. Sessions views his days not in terms of sun cycles, but website updates. He rises long before the sun hits the skyscrapers and writes his stories before the bigwigs at the New York Times or Sun get their first cup of coffee.
Patrol magazine was born when Sessions' sophomore year concluded and his brain was afire from the journalism classes he had finished. With his friends as the premier audience, Sessions started a blog on the topic of Christian Contemporary music. As he fine-tuned his style and enlisted student contributors, the popularity of CCM Patrol, as it was then known, expanded well beyond Sessions' personal circle. "People loved it and hated it," Session says, and all kinds of artists and Christian media people were congratulating him for his insight into their industry.
A short time later, Sessions shortened the name to just Patrol, since the audience and material for a music site was somewhat limited, and he wanted the freedom to cover other things that interested his comrades. The magazine would soon take on serious political topics with just as much vigor as fun cultural topics.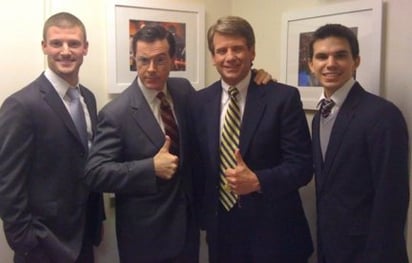 After Sessions left PHC as a journalism student in 2008, he started talking to Marvin Olasky, editor ofWorld magazine and Provost at The King's College, who wanted to enlist Sessions on another project that sounded remarkably similar to his vision forPatrol. Olasky was already familiar with Sessions' writing for the music reviews section in World. Over a long process, which Sessions only attributes to God and his perfect timing, Sessions suggested that they make Patrol an official TKC publication. His idea caught on, his job took off, and Sessions eventually found himself in a NYC apartment.
"The contract is for one school year," Sessions says, "but I'm pretty sure we'll keep going." Sessions hopes to inspire timid beginners to become confident contributors to the culture.
Sessions knows that if he couldn't write observantly, he would have a smaller job. Rule number one for surviving in the fast-changing media world, Sessions says, is to be a one-man information machine. "More than any particular talent, though, I feel like I've been put in the right places at the right times, sometimes without my knowledge and in spite of my shortcomings. That doesn't just happen, and it's an incredible responsibility to know you've been given a chance to make something of yourself—a chance not everyone gets."
While Sessions wrangles with budget limitations and relentless competition, he trusts in the sovereign God to direct his paths. Having attended PHC with no expectation of being an entrepreneur, Sessions expects even today's expectations to be exceeded.