Alumnus Takes Up Job in Mexico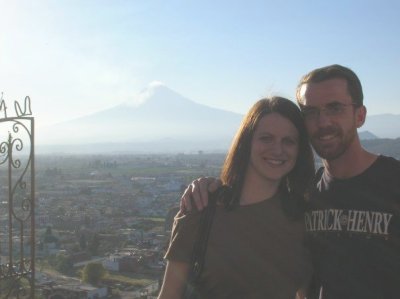 After a year as a Patrick Henry College admissions counselor, Government alumnus Daniel Burns ('08) left the United States behind and took up a position teaching at Puebla Christian School (PCS) in Puebla, Mexico, two hours south of Mexico City. He soon found it wasn't much of a sacrifice; he met a young woman named Florina Marcellus, started dating a few months later, and asked her to marry him in April. After their July wedding, the two will return to Puebla, where Daniel will serve as school administrator and Florina will continue to teach music.
"I didn't expect to find my wife in Mexico and certainly never thought I'd get married so quickly after meeting her, but that's what God had planned," grins Burns.
Burns has travelled many areas of the globe on missions trips—Haiti, the Dominican Republic, Mexico, and Europe (France, England, and Spain). When PHC's international club, Sans Frontières, took a trip to Puebla in 2008 to work at the camp where PHC alumnus Jeremy Smith (2010) grew up with his missionary family, Burns says he "didn't want to come back to the States.
"I started looking for a way to return," he explains. "That's when I found PCS and figured I could teach."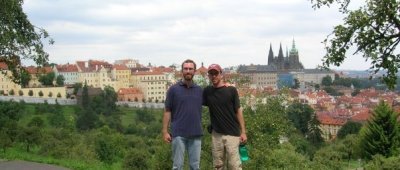 At this small school, staff members teach wherever they are needed. Burns found himself teaching science and math to 7th- and 8th-graders, as well as an economics elective for high-school students and some P.E. classes. Since PHC focuses mostly on the liberal arts, Burns notes wryly that "I can't say my PHC education has helped much in terms of content areas, but it certainly has helped with the skills of absorbing information and communicating it to students." He was able to prepare several students for the AP Macroeconomics exam, however, the area in which he was most familiar.
"Sometimes when a class asked questions that made me think on my feet, it reminded me of my moot court and debate days!" he exclaims.
Burns has enjoyed the "great food, friendly people, and lots to explore and see and do" in Puebla. He is able to use hard-earned piano playing experience at his Mexican church, and for school events and other special occasions. Also, the fresh context has allowed him to see God at work in a new way in the lives of students and missionaries.
For the year to come, Daniel and Florina have joined CAM International as their mission organization. They look forward to serving the Mexican people as the country's Protestant Christian population continues to grow and to seek what it means to live all areas of life in a way that pleases God.