Student and Alumnus Discuss UVA Tragedy on Radio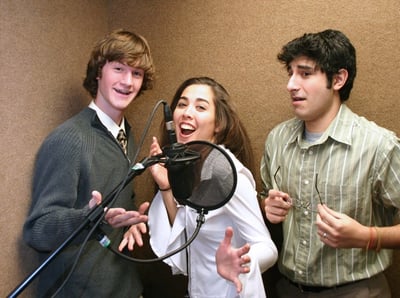 As an Associate Producer for Bill Bennett's radio show Morning in America, Patrick Henry College senior Christopher Beach occasionally finds the opportunity to add his voice to a morning's discussion. Recently, Mr. Bennett invited new employee Nathan Martin, a PHC alumnus, to speak up as well. In a discussion concerning tragic shootings at the University of Virginia, Martin remarked how his four years at PHC challenged him to a standard of educational and moral excellence. Listen to audio.
Following up, Beach wrote an insightful blog post that was linked to by National Review and the Family Research Council. Together, Beach and Martin have added an empathic and truthful viewpoint to the ongoing discussion of what higher education should be. Read blog post.
Blog excerpt:
In less than two weeks from today I will graduate from Patrick Henry College and finish four years of my undergraduate. Looking back, I can remember a lot of the typical college experiences– late night studying, spring break road trips, and nights out with your friends. I'm fortunate to say that I was never involved or associated in one particular college trend in all of my four years – violence or murder.
Alum Wins Surfer Essay Contest
February 8th, 2011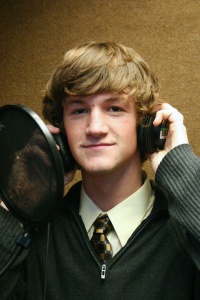 Patrick Henry College alumnus Chris Beach will soon be taking an all-expenses-paid surfing trip with a group of pros, courtesy of Surfer magazine. Out of over more than 300 entries, his tightly-written and colorful essay describing a chance encounter in Costa Rica caught the "collective eye" of the judges, as the panel explained on their website.
In the piece, Beach takes us on his surfing adventure to Costa Rica and introduces us to "Robert, the resident traffic guard" at the local bus stop. This apparently hung-over vagrant "makes his living by standing at the bus stop and helping tourists get tickets, who in turn tip him 100 or 200 colones.
"Not a bad life for an alcoholic bum," notes Beach wryly.
Once a construction engineer in Chicago, "Robert" left everything in the U.S. and moved to Costa Rica, quickly losing himself in the country's cheap drugs, drink, and pervasive party culture, writes Beach. And while observing the gloomy results of this man's choices—drunken addiction and a life on the street—Beach doesn't judge but tells a clear, succinct story, leaving readers to draw their own conclusion.
Finally riding away on the bus, Beach reflects:
"We couldn't be further apart in life, but for one coincidental meeting, we shared a glimpse of each other's world. Mine a world he once knew, and his a world I never want to know."
Chris Beach, a 2010 Journalism major, is currently working as the full-time producer for Bill Bennett's daily radio show, "Morning in America," where he interned during his senior year. One day, he has ambitions to work "behind the microphone" in radio himself.
Alum Chris Beach Works His Way into Bill Bennett's Inner Circle
November 21st, 2011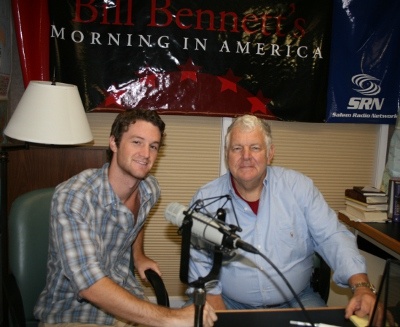 Among the many surreal moments that Chris Beach can recall since he began working as a full-time producer for Bill Bennett's Morning in America, one stands out. Bennett had just finished an interview with FOX business correspondent Charles Payne, and he and Beach were standing on the sidewalk outside FOX 's New York City studios. A stretch limousine pulled up beside them, a tinted window rolled down and a voice inside belted, "Is that Bill Bennett?"
Out stepped Republican presidential candidate Herman Cain. Recalls Beach: "The next thing I knew I was standing on the sidewalk in New York City listening to Bill and Herman Cain laughing and talking about politics, and my first thought is 'What am I doing here?'"
"What am I doing here," is a familiar state of mind for Beach these days, whether it's hiking trails with the former education czar outside of Aspen, staying in swanky hotels on a recent book tour, or simply bantering on-air with his boss about news and politics at Morning'sstudio in downtown Rosslyn, Va., across the Potomac from downtown D.C. Bennett is a former Secretary of Education under Ronald Reagan, the former Chairman of the National Endowment for the Humanities, and the first Director of the Office of National Drug Control Policy under George H. W. Bush. He is also the author and editor of 20 books, two of which -- The Book of Virtues and The Children's Book of Virtues -- rank among the most successful of the past decade.
"It's sort of like I almost have to pinch myself on a daily basis," Beach confides, "just waking up and going to work for Bill Bennett. He's a man of great faith and one of the intellectual giants of the conservative movement, with a depth of understanding of culture, education, and philosophy. He's also a very down-to-earth guy, very funny, extremely engaging. The fact that I get to personally work one-on-one with a man I call the Benjamin Franklin of our times seems pretty surreal to me on a moment-to-moment basis."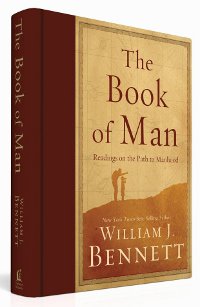 One recent "pinch myself" moment occurred on the book tour for Bennett's new book, The Book of Man, about "rediscovering the need for real men in a society that has cast them aside." The book is targeted as a thematic follow-up for the audience that read Bennett's best-selling Book of Virtues 30 years ago, and it explores the extraordinary lives of men in war, at work, in play and leisure, and in prayer and reflection, among other settings. As it turns out, Bennett's high regard for his "right hand man" placed Beach in the enviable and challenging position of leading and directing a team of present and former PHC students who wrote, researched and edited much of the 600-page manuscript.
"It was a huge job," says Beach of the project that got started over a year and half ago. "Bill had just written the Fight of Our Lives, a political book about Islam, and he was looking to do a different sort of book. Hanna Rosin's article "The End of Men" had just been published in the Atlantic, heavy with statistics about how men are falling behind women in education and success. Bill recognized a data trend suggesting problems with boys and men."
Beach assembled a team of researchers that included PHC grad Nathan Martin -- a journalism major and former associate producer for Bennett -- David Carver, Shane Ayers, and PHC lit majors Olivia Linde and Brian Dutze. With Beach at the helm, the team began interviewing subjects and drafting profiles of notable men who had led courageous, honorable lives. One chapter by Martin features former TIME Magazine senior correspondent and PHC history professor David Aikman.
"The book is very classically oriented," explains Beach, "with lots of source materials from Plato, Aristotle, Pericles, and Homer, which came naturally from our PHC education. I knew (the students) from PHC and I brought them in and they did an amazing job."
In the book's acknowledgments, Bennett wrote: "To my new team of researchers who provided invaluable contributions to this book throughout the entire process: Olivia Linde, Brian Dutze, Shane Ayers and David Carver. The future looks better in your capable hands. And also to David Nathan Martin, whose creativity and skill inspired and created many of the fascinating profiles in this book. And special thanks to the leader of this team -- Christopher Beach -- chief engineer of this project, who put many of the pieces together."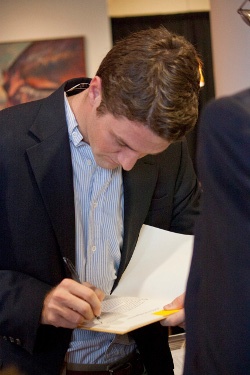 Thanks to a contact in the Communications Office at PHC, Beach began working full-time as an intern for Morning in America during the fall of 2008, when he was still a junior journalism student at Patrick Henry College. Back then, he'd get up at 4 a.m., drive an hour-and-a-half into Salem Communication's Rosslyn studios, and start the day as a call screener. Broadcast skills he learned writing and producing long-form radio features for his PHC radio broadcast course prepared him to step directly into Bennett's editing booth.
"The ability to write and edit under pressure allowed me to start writing promos and news briefs and scripts early on," he added.
In coming months, his humble, laid-back manner and diverse skillset clearly won Bennett's trust and respect, and today, nearly two years after Beach ascended to his full-time position as Bennett's top producer and assistant, a sense of fatherly care and mutual affection is clearly evident. At PHC's recent Newsmaker Interview Series with Marvin Olasky, Bennett poked some light-hearted fun at Beach while extolling his character and educational background.
"A college is measured by its graduates, and you (PHC) have done a very good job with this young man," Bennett began. "He's an extraordinary young man; part of it because of what his parents did, but part of it because of what you at Patrick Henry College did. It speaks volumes; he's a man of balance and good sense -- remarkable in good sense and common sense beyond his years. It's a testament to this College, and I'm grateful for him."
"He's the best, most gracious boss I've ever worked for, and his style is to take people under his wing," Beach observes, noting that syndicated talk host Laura Ingraham, Weekly Standard editor Bill Kristol, and intellectual heavyweight Paul Ryan, chairman of House Budget committee, each got their start working alongside Bennett. "Bill's always looking out for his employees, and he has looked out for me. I travel a lot with him, and I'm fortunate to be in the inner circle of the close team that he relies on. What I was doing in radio journalism at PHC absolutely helped get my foot in door, and the Lord and hard work has taken it from there. I don't take any of it for granted, not for a minute."
Watch Below: Bill Bennett endorses Chris Beach