Mexican Culture-Shaping Ahead for PHC Alumni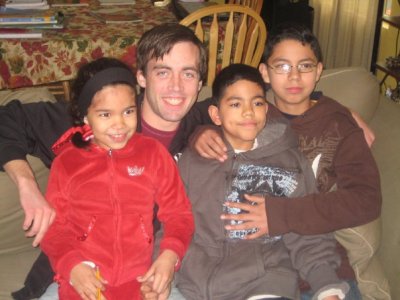 In February of this year, Benjamin Rogers met a tall Dutch Mexican, Dave Tucker, after Tucker spoke in a PHC class. Two weeks later Tucker convinced Rogers to travel with him by car across the Mexican border to visit the small town of Castanos, in the northern part of the country. The mayor of Castanos had asked Tucker, the Caucasian son of a former missionary, to help him learn how to govern his city in a manner based on Christian principles.
"I was thinking and praying how to manage this one day as I drove onto the PHC campus to visit the Home School Legal Defence Association (HSLDA)," recalls Tucker, who is the Vice President of the Board of El Hogar Educador, the national homeschool organization in Mexico. "And I realized HSLDA shares buildings with PHC. Of course! Who better to ask for help with principles of government?"
In short notice, Tucker met with PHC's Associate Professor of Government, Dr. Stephen Baskerville, and delivered a lecture in one of his classes. Soon after, he contacted the College's entrepreneurship club and persuaded 2010 Patrick Henry College alumnus Rogers to make his first trip to Mexico to meet with a small town mayor.
A few weeks later, back from Mexico, Tucker followed up on a suggestion from Rogers and others that he share his vision with PHC students at morning chapel. A chapel cancellation a few days later provided Tucker an opportunity to give a Powerpoint presentation of his many cultural activities in Mexico, chronicling for students the many earmarks and providences of God's unmistakable blessing and guidance.
Sarah Pride (Literature, '07), who serves as the College's editorial assistant and webmaster, was taken by Tucker's cross-cultural outreach and approached him about a College web story of his travels. She found herself unexpectedly invited to join Tucker and his wife on their next trip to Mexico for a national homeschool convention. Pride's mother is a well-known homeschooling pioneer in the United States, and it only seemed only natural for the daughter to take advantage of a prime opportunity to survey the movement's emergence in Mexico.
"I didn't know much Spanish, and I had always said I never felt a 'call' to foreign missions," notes Pride, "but it seemed I should go."
So, on less than a week's notice, Pride accompanied the Tuckers on a marathon, southbound road trip, where she filmed and produced a video montage of the Mexican homeschool convention, using a small camera owned by the Tuckers.
"We flew to Texas, jumped into a car, and drove over 700 miles, down into the heart of Mexico," Pride says, grinning. "Talk about instant immersion! It amazed me how the entire landscape turned wild and untamed the instant we crossed the border. I had always known that ideas have consequences when it comes to governing a country, and now I could see for myself."
Since then, Pride has travelled back to film promotional materials for the start of Vida Joven Mexico (Young Life Mexico) in Monclova, near the Texas/Mexico border, and to help the new organization start a website. Rogers is going back to spend a few months in Castanos, completing PHC internship hours by hands-on help with the mayor of a town. His younger brother, Zachary, who wants to be a missionary doctor, spent the summer observing doctors at work in hospitals in Monclova.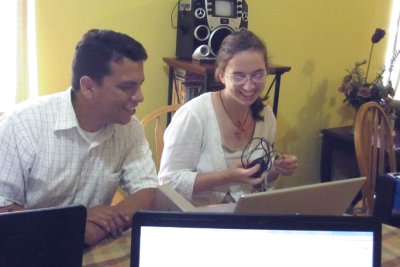 "I don't know where God is taking all this," says Tucker, "but I keep following open doors."
Tucker's own life story is filled with many fascinating turns. Before he was able to return south of the border, he experienced many years in which he felt the door to his beloved Mexico was closed. A generation ago, as the son of missionary parents, he noted that almost all Mexicans were nominally Catholic. After college he returned with his wife, Karin, looking for Christian outreach opportunities, but after five years had encountered nothing but closed minds and doors.
Heartbroken, the couple found their way back to Maryland, where Dave Tucker began working for minimum wage at his brother-in-law's lawn-care business. When he thought to market the software that he had developed as a self-taught programmer for his brother's business, sales took off—as did Tucker's income. A few decades later, thousands of small lawn-care companies use CLIP, Tucker's software.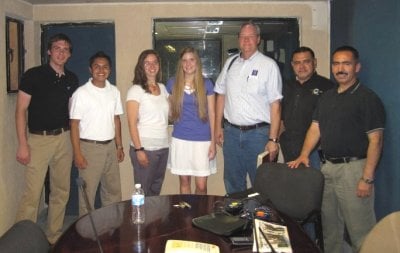 With a season of life as a successful businessman under his belt, the day finally arrived when Tucker and his family turned their gaze back toward Mexico, hoping once again to help stimulate the growth of Christianity. It didn't' take him long to realize, for instance, that the country's spiritual climate had shifted since the mid-1980s, and that the evangelical Protestant population of the country had grown to about 5%. What's more, many of these new believers were hungry to learn how to do all of life "Christianly," and this time Tucker had valuable skills and resources to bring to the challenge.
And whereas doors had once been closed, they now swung open. These included a meeting with Mike Richardson, president of Mexico's national homeschooling organization, El Hogar Educador, who asked the Tuckers to join its newly formed board. Tucker jumped at the opportunity, and has since helped form a Christian businessmen's organization, spoken on a multitude of subjects in several cities, led short-term missions trips, and is now working with a small town Mexican mayor on how to implement Christian principles in the sphere of government.
"Dave [Tucker] is doing in Mexico exactly what PHC talks about doing in the United States," Pride says with admiration. "I can't wait to see how all these projects develop, how PHC students can participate, and how I can be of more assistance in the future."