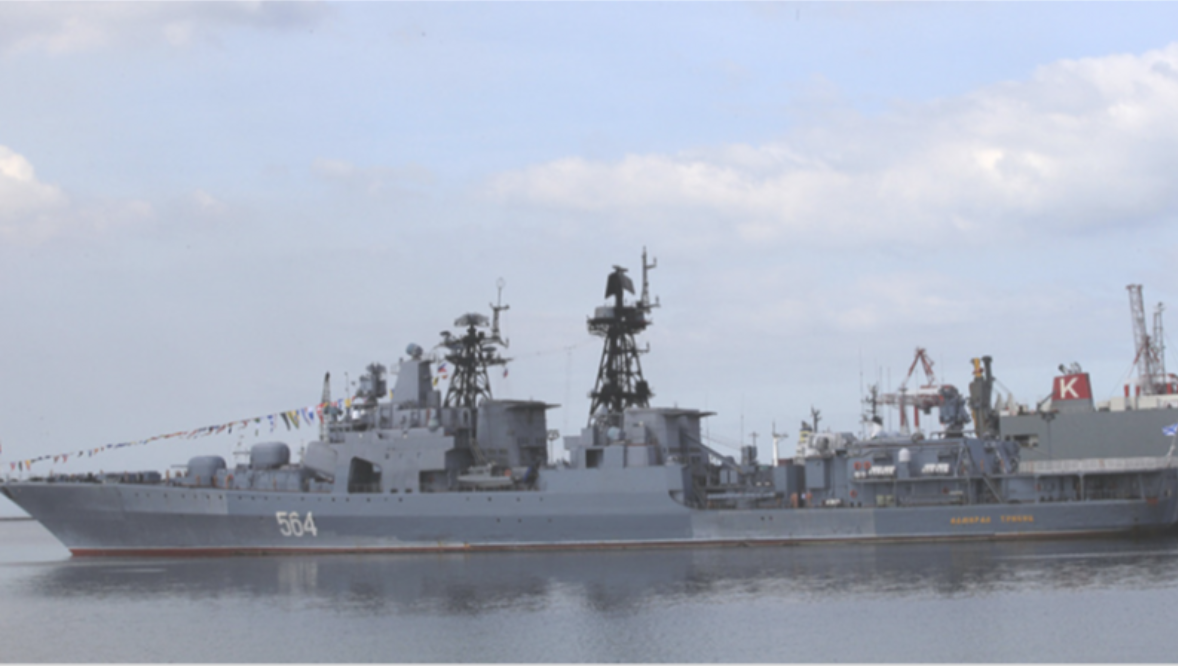 The Philippines' Potential Partnership with Russia Should Cause the US Concern as It Seeks to Maintain a Carefully-Crafted Balance in the South China Sea.
IN JANUARY 2017, RUSSIA SENT TWO WARSHIPS ON A FOUR-DAY VISIT TO THE PHILIPPINES, FOLLOWING A WARMING TREND IN THE BILATERAL RELATIONS BETWEEN THE TWO NATIONS AND THREATENING TO UPSET AMERICA'S POSITION IN THE DELICATE GEOPOLITICAL BALANCE WITHIN THE ASIA-PACIFIC REGION.1
Only a month prior to the port visit in Manila, Philippine President Rodrigo Duterte sent his defense and foreign ministers to Moscow to negotiate the sale of small arms, submarines, airplanes, and other sophisticated armaments.2 Traditionally an ally of the United States, the Philippines recently made efforts to diversify its military and diplomatic connections, increasing its own influence in the South China Sea.3 In response, the United States under the leadership of its new administration should work to rebuild its relationship with the Philippines and minimize the likelihood of bringing in new powers like Russia into the South China Sea and potentially destabilizing the region.
Philippine foreign policy has shifted dramatically away from the US since President Duterte took power in June 2016. Coinciding with rapid economic growth—a 6.7% increase in the Philippine economy, the highest in Southeast Asia—the president's new policies set about to secure a more independent place for the Philippines, one that puts it at odds with its long-time ally, the United States.4 After engaging in a costly war on drugs resulting in over 2,300 deaths and extrajudicial killings, the Philippines saw the US restrict the sale of arms.5 When Washington withheld a shipment of 26,000 rifles to the Philippines, President Duterte reached out to other countries to trade money and agriculture for arms and military equipment.4,6 One of those countries was China, long considered the Philippines' main rival in the struggle for control over the South China Sea.4 Another of those countries was Russia, a key arms manufacturer and builder of military aircraft and naval vessels.
Earlier this January, two Russian warships visited the port in Manila for four days, the first navy-to-navy contact between Russia and the Philippines to date.2 The Russian anti-submarine vessel Admiral Tributs and the sea tanker Boris Butoma remained in port for four days, during which President Duterte took tours of the craft and made speeches praising the Russians and promising a future close relationship with the nation.7 In the words of Russian ambassador to the Philippines Igor Khovaev during the groundbreaking visit, "Russia is ready to become a new reliable partner and close friend of the Philippines."1 This potential partnership between Russia and the Philippines may soon extend to military sales and military trade agreements. The Philippine military has long been underdeveloped. The country spends only 1% of its rather small GDP on defense (compared with China's 2.1%). Its army lacks deterrence power and its navy's flagship is 50 years old.6,8 Up to the present, the Philippine military has relied upon borrowed American military equipment to carry out its defense objectives.6 With the weakening of ties between Washington, and Manila, however, the promise of trade with new partners such as Russia has grown. For this reason, the Philippines has begun negotiations with Russia to gain aircraft, small arms, and even short-range missile boats.4 Manila highly covets Russia's Su-25 and Yak-130 aircraft.4 Duterte plans to visit Moscow in April to further pursue these negotiations.9
A Moscow-Manila security partnership could prove detrimental to United Stated Pacific military strategy and should prompt the US to pursue closer ties with the Philippines. It is unlikely that Russia will become the primary actor in Philippine foreign policy: the Philippines' geographical location virtually guarantees that either the United States or China will hold primacy. However, a successful partnership with Manila would enable Russia to project power in the South China Sea, shifting the current balance of power.4 A US policy that eased restrictions on arms sold to the Philippine government could prove beneficial, complicating Moscow's extension of support and potentially giving Duterte an incentive to maintain a close partnership with the United States. Rebuilding relations would help the US continue to use the Philippines as a base of operations against China.6 Ultimately, a Manila alliance with the Russian bear would greatly complicate the already-tenuous geopolitical balance in the South China Sea. Tactfully counteracting this alliance should be a key goal of US pacific strategy. ■
Image Credit:
Russian anti-submarine ship Admiral Tributs docking in Manila. January 3, 2017 © Romeo Ranoco, Reuters| https://www.rt.com/news/372611-russian-warships-visit-philippines/
Philippine Ambassador With Putin | http://static.kremlin.ru/media/events/photos/big2x/GSX5AVWjVuiVrYAA8FA0jYnB2B93yr5j.jpg
Spring 2017
Volume 20, Issue 1
19 February