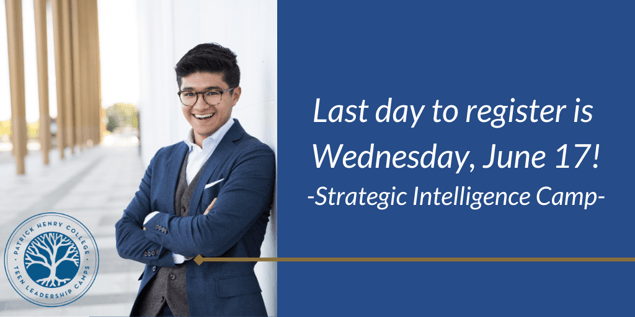 There are just a few days left until PHC's one-of-a-kind Strategic Intelligence Camp begins! Registration officially closes at 11:59p.m. this Wednesday, June 17th, so make sure to register now so you don't miss out! Our instructors and counselor team are excited to work with you this summer, and we have some great activities and lectures planned for you!
Here are a few exciting highlights of our Strategic Intelligence camp:
An all new Crisis Management Exercise (CME) done completely virtually via a Discord and Zoom platforms.

A "podcast" with lecturers and alumni focused on analyzing current events, history, and answering your questions.

Streamed intelligence films and documentaries with simultaneous live chat that allows the instructors to provide context and allows interaction between the camper teams.

All of virtual camp takes place within our brand new Zoom technology rooms with interactive technology. You'll be able to interact with instructors, counselors, and guest lecturers!
If you would like more information about PHC Teen Leadership Camps, you can check out the camp page here or give us a call at 540.441.8105!
We can't wait to have you join the PHC Virtual Camp Experience this summer!
Register for PHC's Virtual Interactive Camp Experience