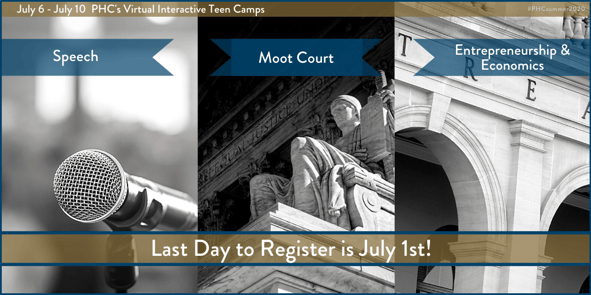 There is less than one week left until PHC's Speech, Entrepreneurship & Economics, and Moot Court Camps begin! Registration officially closes at 11:59p.m. on Wednesday, July 1st, so make sure to register now so you don't miss out! Our instructors and counselor team are excited to work with you this summer, and we have some great activities and lectures planned for you!
We have a few updates about each of the camps for you to read over!
Here are a few exciting details about our Speech camp:
See Rhetorical Figures in Action

- Students will learn 40 classical rhetorical devices and see how each influences the dynamic of a speech through performance and analysis.

Persuade through Audience Awareness and Interaction

- All speeches aim towards persuading an audience, whether the audience is favorable or antagonistic to the speaker. Many of the details in a speech, whether it is the language or the pacing, reflect the speaker's attempts to engage his or her audience. Instead of speaking to an abstract audience, students will learn how to use the text when interacting with their classmates and how to use such interactions to further drive the argument of the speech.

Learn What Makes a Timeless Speech
- Legendary speeches make a mark in their historical context by persuading their immediate audiences and become timeless by teaching future generations. Students will learn ways in which a speaker addresses an audience's hopes and fears across time.
For more information about our Speech camp, you can check out the web-page here.
Here are a few exciting details about our Entrepreneurship & Economics camp:
Business Plan creation. Participate in creating team business plans (one team with each counselor).

Christ and market-focused exploration of economics, leadership, and entrepreneurship skills.

Interactive guest lecturers—featuring PHC alumna Meredith Monroe, EVP Schmidt, and Dr. Tracey McGrath who has worked on some fantastic mathematical models for the Chicago Mercantile Exchange.
For more information about our Entrepreneurship & Economics Camp, you can check out the web-page here.
Here are a few exciting details about our Moot Court camp:
Campers will have a chance to be mentored by PHC students who've competed for the college and can provide tips/insights as to how judges think and how to be persuasive.

Head Moot Court Coach Peter Kamakawiwoole will be leading a number of the sessions!

Develop and practice your own arguments, answer judge questions, and receive feedback from experienced attorney alumni.

You'll get to know and work with other students from across the nation!

You'll learn how to read and analyze actual Supreme Court cases.
For more information about our Moot Court Camp, you can check out the web-page here.
If you would like more detailed information about any of the camps, please give us a call at 540.441.8105!
We can't wait to have you join the PHC Virtual Camp Experience this summer!

Register for PHC's Virtual Interactive Camp Experience