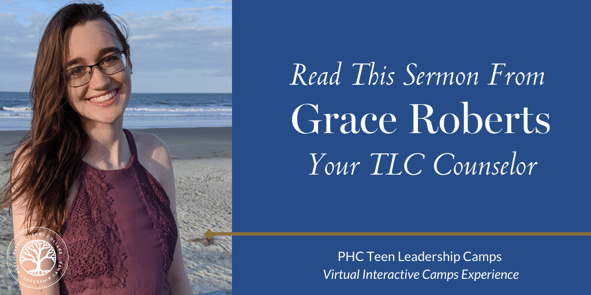 Hello all! Grace Roberts, one of our PHC Teen Camp Counselors, gave an encouraging message to our Strategic Intelligence campers last week during our corporate chapel time. We wanted to share an excerpt with you all...we hope it blesses you today!
-Teen Leadership Camp Team
Hello, friends!
My name is Grace – you may have scrolled past my picture on the Teen Camps Instagram or seen my face pop up on a Zoom session over the past day or so. I'm so thankful that despite our current situation we're still able to spend a week with you guys, even if it's over Zoom and Discord.
COVID-19 has certainly left us in a place we didn't expect. All of the separation we have experienced over the past several months as a result of the virus has been difficult for me personally, as anyone who knows me will tell you that I am an extrovert through and through. But this temporary lack of the physical presence of the people I love got me thinking about the presence of God in my life. We read so many places in the Bible about how God is near to us, and with us at all times. But what does it really mean to have the presence of God in our lives?
I bet a lot of you are familiar with Psalm 23. Many of us have maybe memorized it, and perhaps you even remember an old copy that hung in your living room that included a few Thees and Thous. While it is very important to be familiar with the Bible, to memorize Scripture and keep it close to our hearts and minds, sometimes we become so familiar with a Scripture verse that it can become cliché, and we can gloss over its true meaning. I think in a lot of ways, this has happened to Psalm 23. So, let's approach Psalm 23 now as if we were just hearing it for the first time:
The Lord is my shepherd,
I shall not want.
2 He makes me lie down in green pastures;
He leads me beside quiet waters.
3 He restores my soul;
He guides me in the paths of righteousness
For His name's sake.
4 Even though I walk through the valley of the shadow of death,
I fear no evil, for You are with me;
Your rod and Your staff, they comfort me.
5 You prepare a table before me in the presence of my enemies;
You have anointed my head with oil;
My cup overflows.
6 Surely goodness and loving-kindness will follow me all the days of my life,
And I will dwell in the house of the Lord forever.
This is a beautiful piece of poetry by itself, but there really is so much going on here. This passage tells us so many wonderful things about the character of God, but one thing in particular we learn about the Lord here is that He is a shepherd of his people.
I'm a literature major here at PHC, so I love stories, symbols, and mental pictures that hold truth. The image that comes to mind when I read this passage is that of a beautiful, grassy field dotted with white, half-dozing sheep, a cottage tucked away in the corner of the meadow, and the ever-watchful shepherd keeping a caring, loving eye over his flock. But what sorts of things does a shepherd do for his flock? Well, for one, he walks alongside and among them as he leads them to new pastures, gently correcting the ones that stray from his watchful eye and leading them back to the group. A shepherd also walks behind his flock to protect them from animals that might venture close enough to snatch the weaker members of the bunch. And he encourages them forward, knowing that the place he is leading them is better than where they were content to stay. Finally, he leads and guides them to areas of the countryside where they can safely live out their simple, grass-filled lives.
Psalm 23 describes God as our shepherd. This means that the Lord is all of those things for us – and more.
The Lord walks with us. He comes alongside us as we meet the twists and turns of life, and He is familiar with our struggles and our joys. God is powerful, just, and so much greater than our finite minds could fathom. But, because of the sacrifice of Jesus Christ on the cross that bridged the gap between our sinful selves and the majesty of God, the Lord is so much more to us than a just King – He is also a merciful and compassionate Father who brings a stability to us in the chaos of life that we can't find anywhere else. God is not some distant being that watches over our struggles from afar. He is a shepherd, a Father, a lead, and a guide, who doesn't leave us to figure this life out alone! Psalm 34:18 tells us that "the Lord is near to the brokenhearted and saves those who are crushed in spirit." God's presence in our life is steady and dependable – He understands our struggles and lovingly provides comfort and closeness.
Secondly, just as a shepherd does with his sheep, the Lord also walks behind us. I recently read a book (The Buried Giant by Kazuo Ishiguro, in case you were wondering) about an older couple that set out on a long journey through a fantastical Sub-Roman Britain to find their son. At the beginning of the journey as the older couple is walking along the man, Axl, falls back to walk behind his wife, Beatrice. The author states that "you might also have noted that whenever the path grew too narrow to walk side by side, it was always Beatrice, not Axl, who went in front. This too might surprise you, it seeming more natural for the man to go first into potentially hazardous terrain…but for the most part, Axl would make sure his wife went first, for the reason that practically every fiend or evil spirit they were likely to encounter was known to target its prey at the rear of a party – in much the same way, I suppose, a big cat will stalk an antelope at the back of the herd." This passage from the book gives a particularly striking comparison – Axl went behind Beatrice not out of cowardice but out of love and a desire to protect her. God does much the same thing for us. He walks behind us in life as our protector, warding off many of the lies and destructive, accusing arrows of Satan. He is faithful to provide strength and courage as we travel the ups and downs of this crazy life. He also encourages us to carry on, even when we feel like giving up. Isaiah 58:8-9, we read that "your righteousness will go before you; the glory of the Lord will be your rear guard. Then you will call, and the Lord will answer; You will cry, and He will say, 'Here I am." There is not a moment where we will ever look back where the Lord will not be there – encouraging us forward when we're afraid of the next step, protecting us from the attacks of the Enemy that we cannot see or that would catch us unarmed, and giving us the courage to press on.
Finally, as our shepherd, the Lord walks before us. The well-being of the sheep that belong to a shepherd is dependent upon his wisdom, foresight, and planning. When the current pasture has been mown down by the ever-hungry, fluffy animals, they must move on to another one, and the shepherd alone knows where to take them – the sheep are completely dependent upon his guidance. As the shepherd leads his flock, the Lord leads and guides His children. Have you ever walked outside your house on a summer evening, with the stars twinkling above you and the crickets trying desperately to out-chirp each other? While this was probably a lovely setting, you most likely couldn't see much of it as you walked outside your house, due to the darkness (and if you're in North Carolina, we'd say darkness as thick as the humidity). But let's say you had a motion detector light that turned on as soon as you stepped off the porch that lit up the sidewalk before you. You were trusting that as soon as you stepped away from the comfort of your home and into the darkness, that light would completely illuminate your way.
Motion detector lights and crickets and humidity aside, the Lord lights our path in much the same way. Throughout life we will walk through many dark places – places so dark that sometimes we'd rather just curl up in a ball and quit. And yet, the Lord is our light in the darkness. He goes before us, lighting the way we should go, keeping our feet from stumbling – and we must step forward in faith that He will do that. Do we live in a fallen, sinful world where we'll continue to mess things up and make mistakes and find ourselves sinning against the Lord over and over again? Of course. But despite our failings and nasty falls, Christ is there to pick us up when we fall and lead us forward as we long for when we see our shepherd face to face. "The Lord is the one who goes ahead of you," Deuteronomy 31:8 encourages us, "He will be with you. He will not fail you or forsake you. Do not fear or be dismayed."
Register for PHC's Virtual Interactive Camp Experience