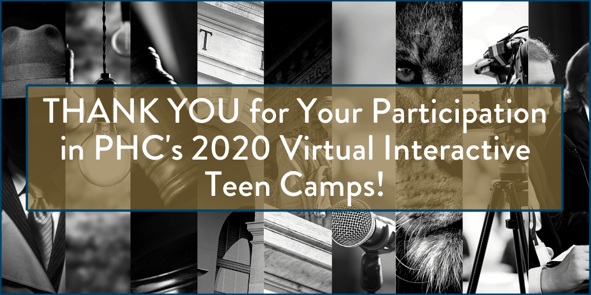 Our 2020 Patrick Henry College Virtual Interactive Teen Camps Experience has officially come to an end! We cannot thank you all enough for your participation in our camps this summer! The format was different than any of us could have ever imagined but it has blessed us in many ways and we hope it has blessed you too. God was certainly faithful this summer, and as we conclude this season and look forward to the next, we know that He will continue to be faithful to us with Teen Camps.
We would love to have you join us for our 2021 Teen Camps season! Updates will begin going out over the next few months, so stay tuned! Be looking for summer recap posts on our social media pages. And be looking for a survey regarding Teen Camps which will be coming to your primary email account.
We hope that your experience with Teen Camps has shaped you academically, grown you socially, and molded you spiritually!
Sincerely,
Stephen Pierce
Director of Student Recruitment