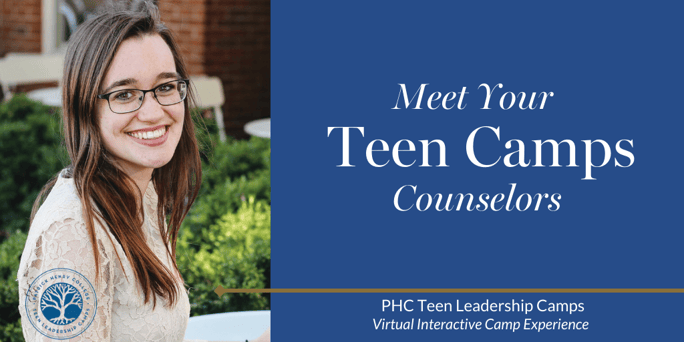 Max Bennett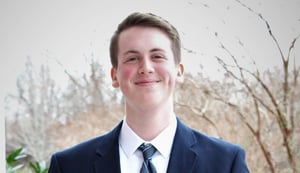 Hi, I'm Max Bennett! I'm a rising junior majoring in Classical Liberal Arts. I was born in Florida and raised in West Virginia. I was homeschooled up until high-school and went to Wood County Christian School, a private Christian high-school where I graduated in a class of fifteen students. This is my second year as a Teen Camps counselor, which, including my many years as a camper, makes it my sixth year with Teen Camps. You're likely to see me playing or listening to music, swinging on a hammock (ideally zipping on a zip-line), or catching up on the reading that "I never have time for." My favorite book is Harper Lee's "To Kill a Mockingbird" and my favorite musicians are Ben Rector and Johnny Cash. Camps are going to be a bit different this year, with them being virtual and all, but I am still eager to see the awesome campers flourish in this new digital setting!
Grace Roberts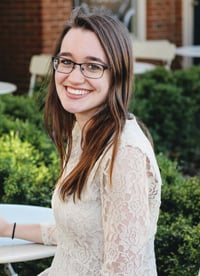 Hello friends! My name is Grace and I'm from Durham, North Carolina. I'm a rising senior majoring in Literature here at PHC. You can find me reading C.S. Lewis somewhere outdoors, drinking inordinate amounts of British tea, and spending time with my friends doing anything from watching a movie, to sharing a pint of Ben and Jerry's, to exploring somewhere new in the suburbs of DC. I'm an RA, a member of both the Patrick Henry College Chorale and Chapel Guild, and it may not come as a surprise that I'm an ENFJ and an Enneagram Type 2. I was a camper myself for four summers before I came to PHC, so Teen Camps have been near to my heart for many years. Due to the circumstances in which we find ourselves, this summer will not be the same as any before it, but I look forward to seeing the ways that we counselors can bless you all and still provide a fun and memorable experience even over the hundreds of miles which will separate us. As the returning counselors this year, Max and I are so excited to come back and to see what the Lord is going to do this summer, regardless of the fact that it is going to look very different than any of us expected.
Adreana Mendez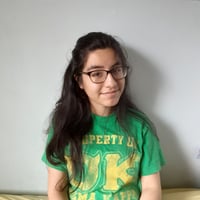 Hello, friends! My name is Adreana and I'm majoring in Government with a track in Strategic Intelligence in National Security. I enjoy reading (Lewis, Austen, and Tolkien primarily), watching movies, playing piano or guitar, spending time with my family (including my cat), and hanging out with my friends! I love Lord of the Rings, fantasy, sci-fi, and superhero genres. I currently possess the One Ring from Lord of the Rings on a chain and I frequently wear it to class. I am so glad to be a part of Teen Camps! The community at PHC is amazing and I can't wait to share that with you all! I can't wait to meet you this summer!
Brynna Rice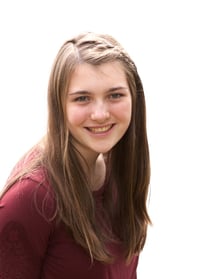 Hey everyone! I'm a sophomore History major hailing from Michigan's beautiful Upper Peninsula (which is NOT Canada, eh?). According to Myers-Briggs, I'm an introvert, but reality says otherwise, so an extrovert I shall be! Some of my favorite things are folk music, dancing, books, tea, stargazing, and hiking, and they're much more enjoyable when done with friends. I love having deep conversations with people and seeing how the biggest ideas in history impact us and our worldviews today. Most of all, though, I love Jesus, and it is my passion to give the love He has shown me to others. When I'm not too busy with school, you can find me on long walks with friends, playing my various woodwind instruments, or having nerd moments with everything from the Founding Fathers to Lewis and Tolkien. I am super excited to counsel for PHC's Teen Camps, and I can't wait to see how God works through this summer.
Gabriel Blacklock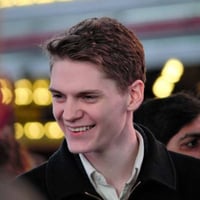 Gabriel is excited to be a first-time Teen Camps counselor this summer. He graduated from Patrick Henry College this past Spring with a degree in Government. He hopes to pursue a career in the US Intelligence Community before attending law school. In his free time, Gabriel enjoys playing instruments, singing in choirs, acting in theater, and competitive debate.
GraceAnna Schmidt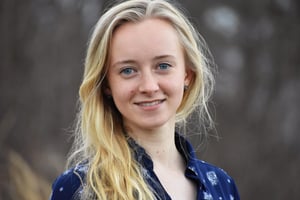 GraceAnna is a rising junior Journalism major who grew up near Atlanta Georgia. When not in class, she enjoys reading outside, throwing the frisbee, and hanging out with friends. She attended PHC Teen Leadership Camps as a camper while in high school and was always challenged to grow closer to Christ. She is thrilled to be a counselor this summer!!
Hope Turner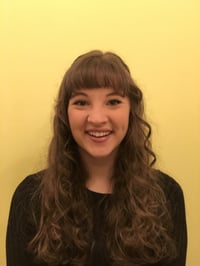 Hey y'all! My name is Hope Turner. I was born and raised in Georgia (which certainly helps when it comes to the heat and humidity of Virginia!), and I am a sophomore at Patrick Henry College. I am studying American Politics and Policy with the goal of attending law school. Some of my favorite activities include playing with my cats, Superman and Oliver, singing/playing piano or guitar, competing in moot court and mock trial, and reading. I am also a HUGE Disney fanatic, so if you ever want to watch a Disney movie or have a sing-along, come and find me! I am SO excited to meet y'all and see what the Lord will do in our time together!
Isaac Homoelle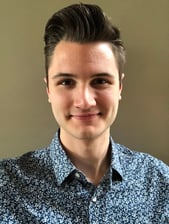 Hey everyone! My name is Isaac, and I just wrapped up my sophomore year at PHC. I'm an Economics guy, and enjoy moot court and debate, playing and recording music, leather-working, backpacking, and large quantities of french press coffee. I grew up in Ohio, and continue to enjoy the increasing amount of time I don't spend in the state. I am so excited to join the team this summer and trust that this year's camps will be a blessing you remember for years to come!
Joshua Schumacher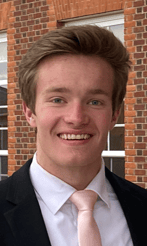 Rising junior and former Teen Camper Joshua Schumacher is ultimately a follower of Christ. In addition to that—and to being a Journalism major with a History minor at the school of his dreams (Patrick Henry College)—Josh enjoys '80s music, reads everything he can get his hands on, occasionally dabbles in theater, and routinely finds himself unable to avoid competing in forensics. He's excited to serve as a Teen Camp counsellor for the Summer of 2020, and is looking forward to meeting all the new campers!
Kyle Ziemnick
Hey everyone! I'm Kyle, a PHC grad with a degree in political journalism. I've lived In Purcellville for almost 13 years now, and I can't wait to meet you all (virtually) and tell you about the PHC and the town. Some of my favorite things are football (a sad Detroit Lions fan), history/historical fiction books, the Lord of the Rings, debate/moot court/mock trial, and basically any kind of game, board or video. And I'm tremendously excited to get married at the end of the year. :) Looking forward to growing with you all this summer and seeing what God's doing in each of your lives!
Lydia Heykamp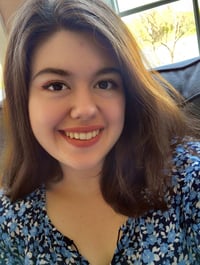 Hey Everyone! My name's Lydia. I'm a Strategic Intelligence major here at PHC and just completed my Freshman year. I'm from the Pacific Northwest, so coffee is basically in my bloodstream and a rainy day is my natural habitat. On my free time, you can catch me taking long walks on the trails near campus, watching corny movies with friends, or trying to rope people into playing one of my favorite board/card games. I love people, and most importantly, being part of a community that aims to glorify God. I can't wait to meet you all and make amazing memories with you this summer!
Sam Bittner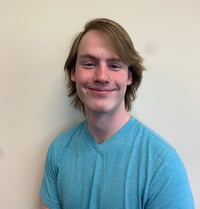 Hey, guys. My name is Sam. I'm originally from Eastern North Carolina and came to PHC in the Fall of 2018. Before that, I attended six weeks of teen camps during the summers of 2016 and 2017. I really enjoyed my time at camps and hope to make your time as special as mine was. I'm going to major in either history or classical liberal arts. In my spare time I enjoy reading, hammocking, slacklining, and gardening. See you soon.