Have you never been to PHC Teen Camps? Are you thinking about signing up, but wondering, "What does a day at Teen Camps look like?" Well look no further! Here's a sample of what a day at camp might look like!
6:00 AM: Get creative with philanthropy!
Your alarm goes off and you and your roommates roll out of bed. You cleaning the room, while you put your final touches on the poem you wrote for the cleaning inspector, hoping to gain some bonus points in your cleaning score. Your roommate made a gorgeous drawing of the cleaning inspector's favorite flower– you're feeling confident you'll get all the bonus points you can. Once you're done, you get ready to leave the dorm for the day.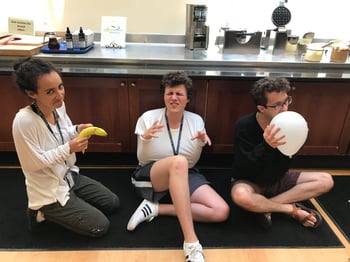 7:15 AM: Bacon, eggs, and announcements!
You can't start the day without a complete breakfast! You'll grab some food in the cafeteria then settle in to watch the announcement team tell you about any important information you need to know while performing hilarious – and extremely silly – skits.
8:30 AM: Personal devotions
A counselor will give a short devotion, then you'll be free to read your Bible, journal, and pray about the upcoming day of camp.
9:00 AM: Morning camp session
You'll have your first session of the day with your camp instructor. Maybe you'll talk about ethics in the intelligence community during SI camp, or about the importance of vocation in Leadership and Vocation!
12:00 PM: Lunch (and yes, even more announcements)
You'll hear who had the cleanest rooms and watch some more hilarious skits while you grab some lunch!
1:00 PM: Afternoon camp session
You'll go back to your instructor for another session. You might discuss atheism with President Haye in Worldview and Apologetics, or you might talk about Macbeth with Christian Fernandez in Shakespeare on Stage!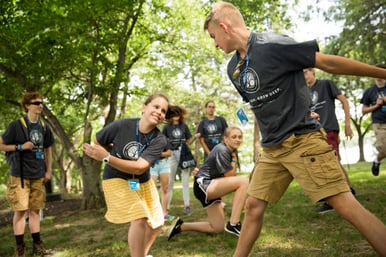 3:00 PM: Free time!
Now's your time to grab your phone, take pictures, hang out in the coffee shop, talk to the counselors, or play games outside! Ninja is always popular! Unwind from your sessions by having some fun with your fellow campers.
5:00 PM: Dinner and even more announcements
You'll sing the announcement song for the final time of the day after you've enjoyed another meal in the dining hall.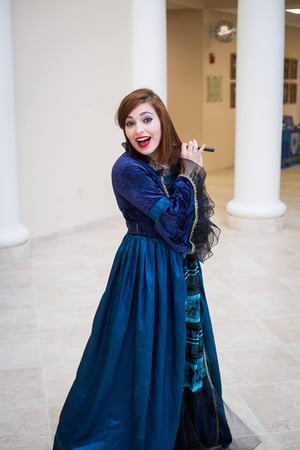 6:30 PM: Human clue!
The counselors have mysteriously disappeared and in their place are a variety of absurd characters, from Disney knockoffs to secret agents. Your job: interact with all the characters to try to get information to solve a mystery!
8:30 PM: Corporate chapel
You and your fellow campers will make your way to town hall. After singing a few songs, one of the counselors or camp instructors will give a message; after a skit, there will be some time to pray and reflect with the counselors.
11:00 PM: LIGHTS OUT!
You turn off the lights, stumble into your bed, set your alarm, and try to grab some sleep. Tomorrow, you'll do the whole thing again!
~~~
Interested in coming to one of our camps? Click the button below to discover more about PHC Teen Leadership Camps!