Reach High
At PHC Teen Leadership Camps, we help campers understand and apply what they're learning. We have some of the best professors and instructors in their fields teaching the camps– these instructors are often the very same teachers for PHC's college-level classes. Additionally, the camps encourage the campers to apply what they're learning; from giving a presentation in Speech camp to participating in a Crisis Management Exercise in Strategic Intelligence camp, the campers get a chance to practice what they've learned.
Similarly, we also help campers set high standards for their own spiritual lives. Each day begins with a Bible study, and each evening ends with either wing chapel or corporate chapel. Campers are encouraged to find ways to incorporate their faith into different aspects of their lives.
We encourage campers to reach out to new people and create new friendships while at camp! Campers will meet teens from all over the country – and even the world! Through team building activities and fun field trips, campers get to form new friendships.

Grow Deep
Our summer camp instructors encourage the campers to incorporate their faith into their studies. A Christian worldview can be the basis for understanding history, writing stories, or understanding philosophy. They'll deepen their understanding of world issues and learn about incorporating Christ in all they learn.
Additionally, we encourage campers to deepen their relationship with God. Our counselors talk to the campers to help challenge any misconceptions they have in their faith and to point them to Scripture. The campers will be studying the Scripture at least twice a day, and are surrounded by godly examples of leadership and love in both the instructors and counselors.

Friendships also deepen while at PHC Teen Camps; by studying academics, searching scripture, and participating in activities together, campers gain new experiences and form new friendships. Even people who had never met before coming to camps walk away with a friendship that might last for a lifetime.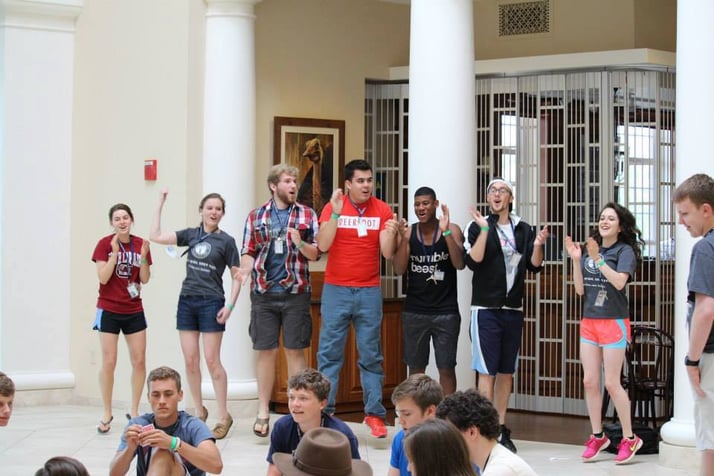 Redefine Your Summer
At the end of the day, there's really nothing like PHC Teen Camps. The campers will get amazing academic instruction, encouragement to develop their spiritual life, and the opportunity to create amazing new friendships. They'll even get to go into Washington D.C. for a field trip!

If you or your teen wants an amazing summer experience, join us at PHC Teen Camps!
Make sure you sign up by this Saturday, April 1st, to get the $75 early bird discount!