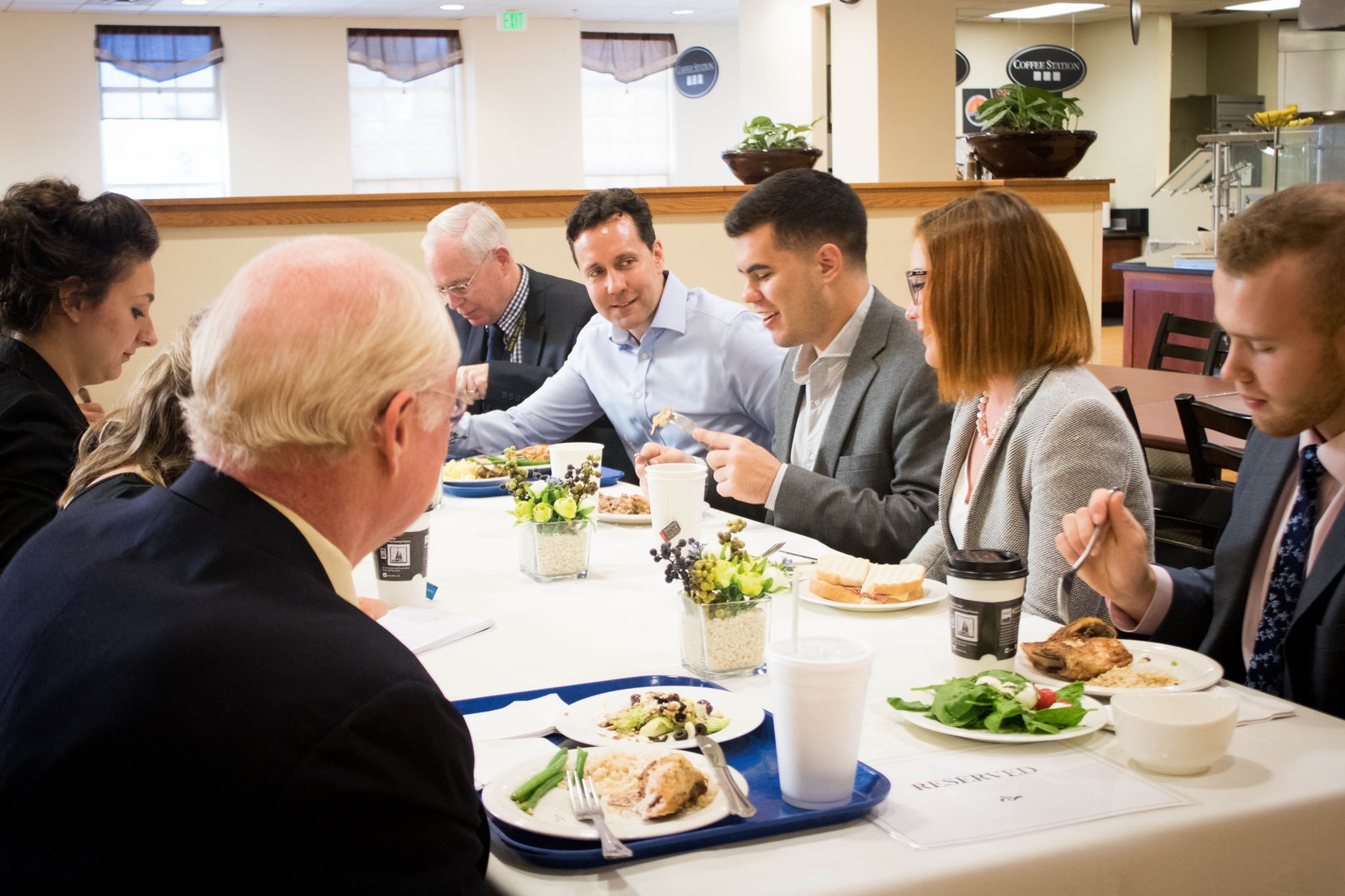 A small group of students and faculty attended a lunch meeting with Dr. Paul Coyer and his invited guest, Thomas Flichy de la Neuville, to our PHC campus on Monday, September 12th.
De la Neuville's area of expertise is international security and Iran. Dr. Coyer is a frequent commentator on China and Russia.

Thomas Flichy de la Neuville Background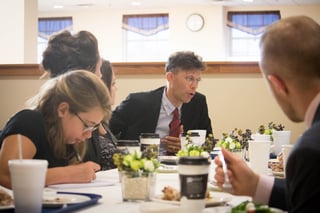 He is an Associate Professor at France's version of West Point, Saint-Cyr. He's also conservative, very pro-American, a devout Christian (Catholic), concerned about the devolution of Western civilization, the threat from radical Islam to Western civilization and France in particular, not a fan of French socialism, Obama, etc. He's a specialist of Persia educated at France's National Institute of Oriental Languages and Civilizations.

A graduate in Persian of the National Institute for Oriental Languages and Civilizations, Thomas Flichy de La Neuville is an expert on Iran. He is a Professor at the Military Academy of Saint-Cyr who lectures in France and abroad, notably in Oxford. He has authored seven books on issues related to global security and he coordinates SYNOPSIS group (international network of academic and military experts willing to provide a comprehensive response to contemporary defense challenges).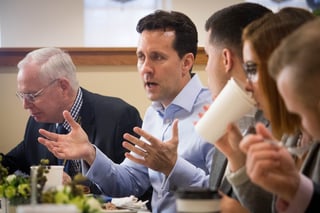 Dr. Paul Coyer Background
Dr. Coyer covers foreign policy, with a focus on Eurasia, for Forbes, and is a Contributing Editor for Providence: A Journal of Christianity and American Foreign Policy, published by the Institute for Religion and Democracy. He also serves as an Associate Professor at the École Spéciale Militaire de Saint-Cyr.

Dr. Coyer's first two degrees were in theology, including an MA in theological ethics from Yale Divinity School. While at Yale Dr. Coyer also spent time in the History Department, studying the impact of Christianity on America's founding and on the American revolution with Skip Stout and Jon Butler, as well as Chinese history from the late Ming Dynasty through the establishment of the People's Republic of China with Jonathan Spence.
Dr. Coyer served as a professional staff member for two years in the US Senate for the Senate Republican Policy Committee. From 2007-2013 he was Visiting Scholar at the Institute for European, Russian and Eurasian Studies at the Elliott School of International Affairs at George Washington University in Washington, D.C., and he occasionally serves as a visiting lecturer on Chinese foreign policy and Sino-American relations at the University of Florence, Italy.