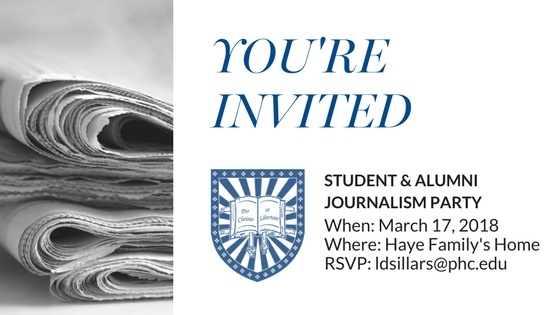 PHC is excited to announce this semester's joint student-alumni journalism party!
If you are currently a journalism student or are considering declaring, please join us for an excellent evening of food, networking, and fun at the Haye Family's home on Saturday, March 17.
We extend a warm welcome to all PHC journalism alumni as well.
While journalism parties are an old tradition at PHC, this semester's party affords students a special opportunity to get to know alum in the journalism community. Students' relationships with alumni often open the doors to journalism mentorships, internship opportunities, and even post-graduation career paths.
Be sure to RSVP to ldsillars@phc.edu if you'd like to attend.
We look forward to seeing you there!
---
Find out more about the journalism program at PHC by clicking the button below!