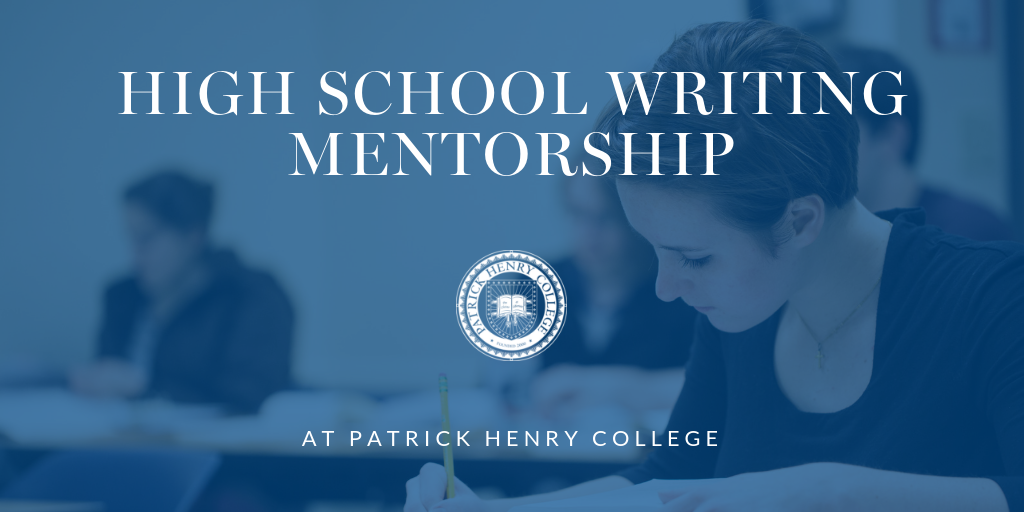 Calling all High School Students who would like to brush up on their writing skills over the summer or get a head start on the upcoming school year.
What is the PHC Writing Mentorship Program?
The PHC Writing Mentorship Program pairs you with a mentor from Patrick Henry College to meet your specific needs. We most commonly offer support in the following three tracks:
Editing and Feedback - Do you want a second opinion on an important paper, project, or novel? This Program's Mentorship will offer feedback and edits to avoid mistakes and make your paper excellent.
Creative Writing - Would you like to try your hand at writing creatively? This low-pressure track helps students engage their imaginations through short stories and sometimes poetry or novellas.
Academic Writing - Writing well on the college level (and especially at Patrick Henry College) is challenging. This track aims at developing strong, organized essay writing and learning proper writing format guidelines which prepare students to meet the rigorous writing requirements of college.
Why do the Writing Mentorship Program?
The ability to get flexible and specialized support is invaluable. The mentors feature a diverse range of talent from published fiction authors, editors of scholarly campus journals, lovers of poetry, to experts on mechanics and formatting. The program will match you with someone who will let you succeed in your specific area of expertise.
How does it work?
Email our coordinator David Slaughter at mentorshipcoordinator@phc.edu describing what you are looking for from the writing mentorship program. He will answer any questions you might have and pair you with one of the writing mentors from our team.
Want to Learn More?
Explore our FAQs page or email the program coordinator at at this address: mentorshipcoordinator@phc.edu.
-----
There are several ways a high school student may prepare for programs at a selective college—from pursuing a rigorous college-prep curriculum to engaging in activities that will make you a well-rounded Christian student. This college-preparation guide illustrates ways that students can make the most of their high school years as they prepare for our college, including: financial aid information, suggested curriculum, suggested reading list, sample high school transcript, other resources to guide you in your time of preparation.