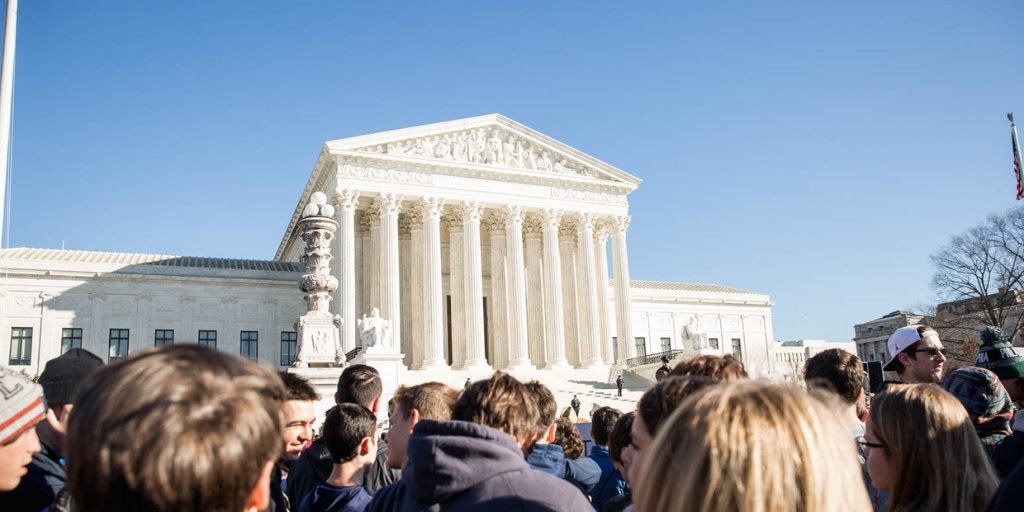 Lindsay See (Political Theory '07), appointed Solicitor General of West Virginia this summer, argued before the Supreme Court of United States last month. The following article was written by Maria Koklanaris at Law360.
The West Virginia Capitol in Charleston: The state's solicitor general argued Tuesday that a tax exemption for retired state law enforcement officers did not violate the intergovernmental tax immunity doctrine. (AP)
West Virginia Solicitor General Lindsay S. See told the justices in a brief that West Virginia's exemption for "a decreasingly small number of state employees" differs significantly from 1989's Davis v. Michigan Department of Treasury. James Dawson, the retired federal marshal suing the state, has held up Davis, in which Michigan exempted its own employees but collected tax from the retirement benefits paid by all other employers, including the federal government.

In Davis, Dawson said, "this court held that such discriminatory tax treatment violates the doctrine of intergovernmental tax immunity" and federal law that codified the doctrine.

That does not apply here, See told the justices Tuesday. She said the West Virginia Supreme Court of Appeals was correct that Davis speaks to a broad exemption for one class while taxation is imposed on all other classes. The key difference, See wrote, is that West Virginia's exemption is narrow.

"In the almost three decades since Davis was decided, no state or federal court has invalidated a discrete, tailored tax provision" like West Virginia's, See wrote. "This result was not for lack or legislative or judicial vigilance: In Davis's wake many states amended their tax codes to remove provisions broadly favoring state employees at the expense of federal workers."

As for the particular question before the court, whether West Virginia's action violates intergovernmental tax immunity, See wrote that the doctrine "does not police the minutia of state tax policy," but is meant to ensure that taxation does not create such discrimination between two governmental entities that it interferes with the carrying out of powers.

"Petitioners urge the court to transform this structural protection into a tool for individual federal workers to force states into giving them the most favorable tax treatment available to any state employee," See wrote.

In addition, See wrote, Dawson was not similarly situated to the state retirees who received exemptions. One important distinction, she wrote, is that the state retirees who received exemptions had paid into their retirement plans at higher rates than did Dawson, as a federal retiree. Even state and local employees who did not receive exemptions on the taxation of their benefits had paid into their plans at a higher rate than Dawson, See wrote.

"West Virginia's choice not to extend [exemptions] to retired U.S. marshals like Mr. Dawson has nothing to do with the U.S. seal stamped on his benefits checks," See wrote. West Virginia "accordingly does not discriminate against the United States or its employees, and the intergovernmental tax immunity doctrine is no barrier to enforcement" of West Virginia tax provisions.

"Where a state treats federal retirees the same as the vast majority of its own retired workforce, and even better than it treats all private sector and some state retirees, the principles animating the tax immunity doctrine do not hold sway," See said.

The case is set for oral arguments Dec. 3 before the nation's highest court. The court has granted the U.S. solicitor general 10 minutes of argument time on behalf of Dawson.

Dawson attorney Lawrence Rosenberg of Jones Day did not respond to requests to comment Tuesday. When Law360 has reached him previously, he has declined comment, saying the firm does not speak about ongoing litigation.

Dawson is represented by Anne Marie Lofaso of the West Virginia University College of Law, and Lawrence Rosenberg, David E. Cowling, John M. Allan, Meghan Sweeney Bean and Mark C. Savignac of Jones Day.

The West Virginia tax commissioner is represented by Attorney General Patrick Morrisey, Solicitor General Lindsay Sara See, Senior Deputy Attorney General Katherine A. Schultz and Deputy Attorney General Vaughn T. Sizemore of the Office of the West Virginia Attorney General.

The case is James Dawson and Elaine Dawson v. Dale W. Steager, West Virginia State Tax Commissioner, case number 17-419, in the United States Supreme Court.
--Additional reporting by Paul Williams. Editing by Vincent Sherry.
-----
To learn more about PHC alumni stories, click the button below!