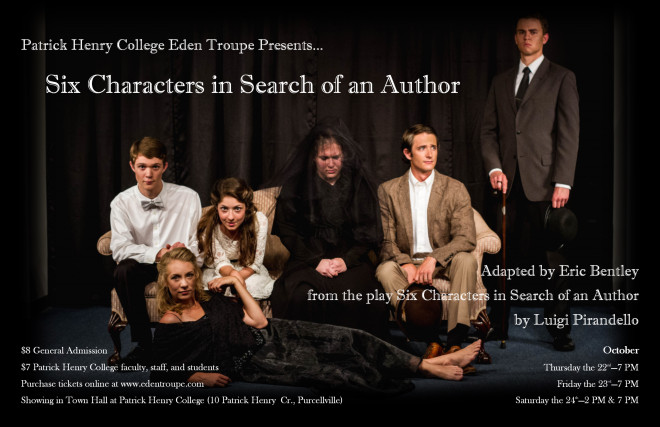 Patrick Henry College's Eden Troupe is proud to present its chilling rendition of Pirandello's surreal play, Six Characters in Search of an Author, for four performances beginning October 22nd and running through October 24th, 2015. This production will be Eden Troupe's 31st production, and its first attempt at bringing a piece of metatheatre to the Eden Troupe stage. The company is a student-run theater group on the campus of Patrick Henry College.
Six Characters in Search of an Author deals with the concept of identity, as the six titular Characters interrupt an acting troupe's rehearsal and present the need for their unique story to be told. As the story unfolds, the audience gradually discovers the characters' true nature, and how they reflect the deeper and darker nature of mankind's fallen condition. Along the way, the audience is presented with questions about the nature of reality and fiction, and the relationship between the two.
While Six Characters is a dark play and Pirandello has no qualms with portraying the grittiness of humanity, there are many valuable things to be considered here. Not only does the play rupture the boundaries between the reader and the story in an artful manner, but it also demonstrates how the family unit suffers when we lose sight of its goal and its purpose in the first place. Six Characters in Search of an Author is a very unique, eerie, chilling, sometimes comedic and undeniably witty theater experience, and is in many ways a morality play with its many valuable lessons.
Six Characters in Search of an Author premiered in 1921. Its relevant themes, challenging script, and value to international theatre have allowed it to claim a spot as one of the great literary works of Western Civilization.
James Waters is the producer, with directors Elisabeth Wilk and Graham Jackson.
Six Characters in Search of an Author stars local artist Adam Perkins as The Director, Senior Ben Davis as The Father, and Senior Raquel Davis as The Stepdaughter. Also featured in the cast are Kimberly Kozak (The Mother), Chaz Toplikar (The Son), Lillianne Cobb (Mme Pace), Aphrodite Sahinidis (The Child), and Grayson Van Buren (The Boy)
Six Characters in Search of an Author will be presented in Patrick Henry College's Town Hall. Performances Thursday-Saturday at 7pm with a Saturday Matinee at 2pm. Tickets are $8.00, online at www.edentroupe.com. You can also purchase tickets in the lobby of the Barbara Hodel Center of Patrick Henry College during limited hours the week of the show.