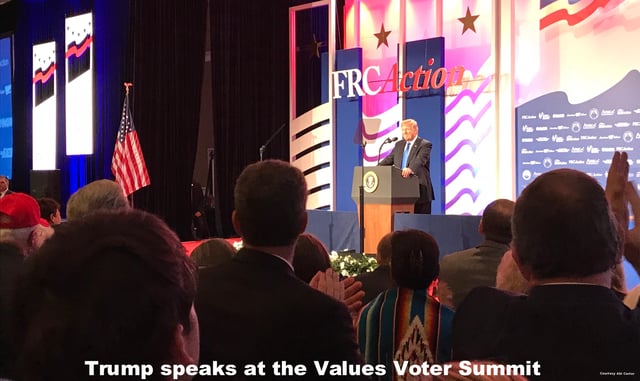 PHC students attended the Values Voter Summit in Washington, D.C., on October 13-15, where they heard from President Donald Trump and Michele Bachmann (who took time out of her busy schedule to talk to three PHC students!) .
Other speakers included Congressman Mark Meadows of North Carolina, Family Research Council's Tony Perkins, and many others.
The Values Voter Summit, which promotes traditional marriage, religious liberty, and limited government, is a high-profile political conference.
"I was most looking forward to seeing Michele Bachmann speak, and she did not disappoint," said sophomore Abi Carter, an American Politics & Policy major. "She's kind and gracious, and her focus is to promote Christianity wherever she goes."
Bachmann shared the gospel message for 20 minutes at the summit, saying, "There are cameras, there are listeners, there are 3,000 in the audience, I'll just share the gospel."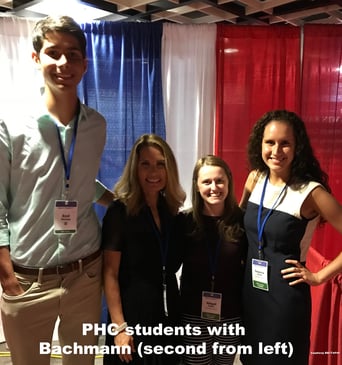 "She could have talked about herself, she could have talked about politics, but she chose the gospel over everything," said sophomore Emil Meintjes, who also attended the summit.
After Bachmann's speech, Abi, Emil, and PHC senior Sequoia Leines were able to meet her and snap a quick photo. Bachmann ignored the growing line of admirers, her personal aid's beckoning, and tugs from security to talk with the college students for 10 minutes.
"We thanked her for sharing the gospel and talked about Patrick Henry College, and she mentioned how she's spoken at PHC before," Abi said. "When we mentioned we were from PHC, Bachmann said she loved the school and to keep spreading the gospel."
Students also heard Trump speak.
Trump made a promise at the 2016 summit, during his presidential campaign, that if he were to become president, he would return to the 2017 summit and speak. Upholding his promise, Trump spoke of the goals of the Values Voter Summit, how much has changed since his last appearance at the summit, and thanked the attendees for their support.
"I was curious to hear President Trump speak in person. I constantly hear so many people criticize him for so many things," Emil said. "To actually hear him speak in person and view his mannerisms -- to see and hear him in context, rather than hear little snippets of his speeches on talk shows -- it was an opportunity I will never forget."
--------------------------------------------------------------------------------
Reporting courtesy of PHC's The Herald.