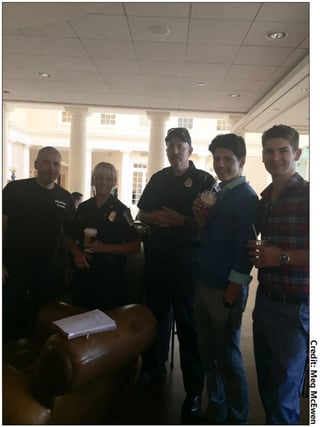 When a fourth of the Purcellville police force rolled into PHC on Tuesday morning, they didn't come to protect a political candidate or to make an arrest. Chief Paul Yancey, PHC's director of Public Safety and Events Services, arranged Coffee with a Cop, a casual meet-andgreet event held at the café for students, community members, and the Purcellville Police Department. This external community bridge followed internal community growth, as Yancey also added a Crisis Prevention Presentation to the Resident Assistant training this past August.
"The average person never has involvement with law enforcement unless they get pulled over for speeding or some traffic violation, or they're a victim of a crime. A lot of times people are afraid to come up to an officer because we're intimidating and we carry a firearm. So, by having Coffee with a Cop, it breaks down that barrier," Yancey said.
This was the fourth open community event planned by the Purcellville police department. About five students at a time rotated in and out of the café during the two-hour event. Two council members, including Kelli Grim, alumnus and assistant town manager, Danny Davis, and a few other community members, attended.
"We've always had great relationships with the students here at Patrick Henry. You guys aren't your traditional crazy college," said Lieutenant Schroeck. Students who seized the opportunity to attend Coffee with a Cop were likely to be met with a friendly handshake and a question or two from Schroeck. "I'm studying Strategic Intelligence," freshman Jae Jared replied.
"Does that mean that you're going to work for an agency with three letters, possibly?" asked Schroeck with a chuckle. Students and cops casually chatted about classes, rallies, hometowns, the tragedy of McDonalds closing, and license plate requirements.
"The police are the public and the public are the police," Schroeck said, quoting Sir Robert Peel, the Father of Police. "That was said over 200 years ago, and it's still relevant today. It can't be us against them; if it's us against them, nothing can get done. You have to have the support of the community."
Inside the bounds of Purcellville the police force is busy, but the town is relatively peaceful. Outside, it is a changing time for the cops in America as the catching term "police violence" consistently grabs headlines. Even sleepy Purcellville feels the effects. Schroeck witnessed this shift during his 33 years as a cop, and he's convinced that the pendulum swing may be permanent. He recently asked a group of middle school kids, "Who wants to be a cop?" during a standard police presentation. Usually at least a few raise their hands. This time, silence filled the room and hands stayed in laps.
The Purcellville Police Department (PPD) is working to convey a different message. "I want you to know us because my hope would be that if you had some engagement with an officer that you felt was not right, you would be comfortable enough to contact us. I welcome complaints because it allows me to explain and to know," said Chief McAlister.
McAlister has big plans for the town, ones that hopefully include PHC students. Under her guidance the police department reaches out to the community through events like Coffee with a Cop and Books and Badges, a startup program during which officers read to kids.
"A lot of times students come to me and ask me what they should do after they graduate as far as getting into the FBI, etc. My suggestion is go to work at a police agency first," Yancey said. "I could always tell the difference between an agent that had prior experience working street level compared to an agent that came right out of college and went into government service."
This news report courtesy of The Herald.