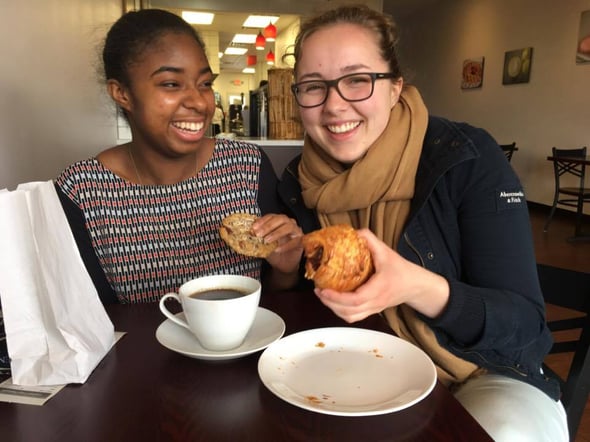 PHC students hang out at Layered Cake Patisserie (photo credit to Evie Fordham)
Cue the jokes about the freshman fifteen—Patrick Henry College is located only 15 minutes from the best bakery in the state, Layered Cake Patisserie in Leesburg, Virginia. Earlier this month, Buzzfeed released its annual list of the most popular bakeries in each state according to Yelp reviews.
"Everything in the store is awesome!" wrote Yelp reviewer Bernie S. "For me, it's a toss-up between the Coconut Macaron or the Vanilla Bean Macaron, so I usually get both along with a great cup of fresh, locally sourced coffee."
Layered Cake Patisserie is known for its French-inspired pastries and coffee from Catoctin Coffee Company located in nearby Lovettsville, Virginia. Its specialties include ham and cheese croissants, eclairs, and custom cakes.
"My favorite items are the almond croissant and the earl grey tea," PHC student Morgan Conliffe said. "The tea has vanilla syrup and foamed milk. It's wonderful!"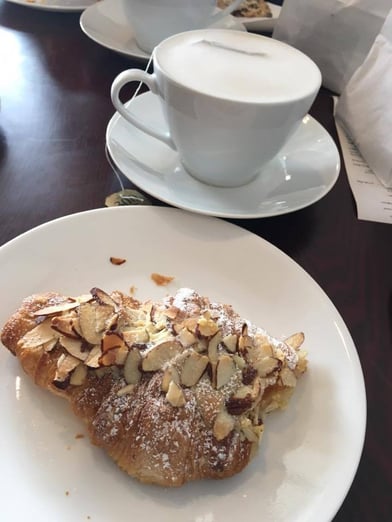 Almond croissant and earl grey tea (photo credit to Morgan Conliffe)
Leesburg is only a town over from Purcellville, where PHC is located. Leesburg is a common hangout spot for PHC students, who drive over to hang out at spots like Morven Park and Trinity House Cafe.
Husband and wife Anthony and Barbara Chavez started the patisserie in 2014 after over a decade of experience in the culinary world.
"Layered Cake Patisserie's atmosphere is very nice," Conliffe said. "You can smell the sugar as you walk in, and everyone is so nice there. It's a calm environment and a perfect place to study or hang out with friends."
The bakery is located at 9F Catoctin Circle SW, Leesburg, VA 20175. You can visit them online at http://www.layeredcakepatisserie.com/Home_Page.html.
--------------------------------------------------------------------------------
Reporting courtesy of PHC's The Herald.