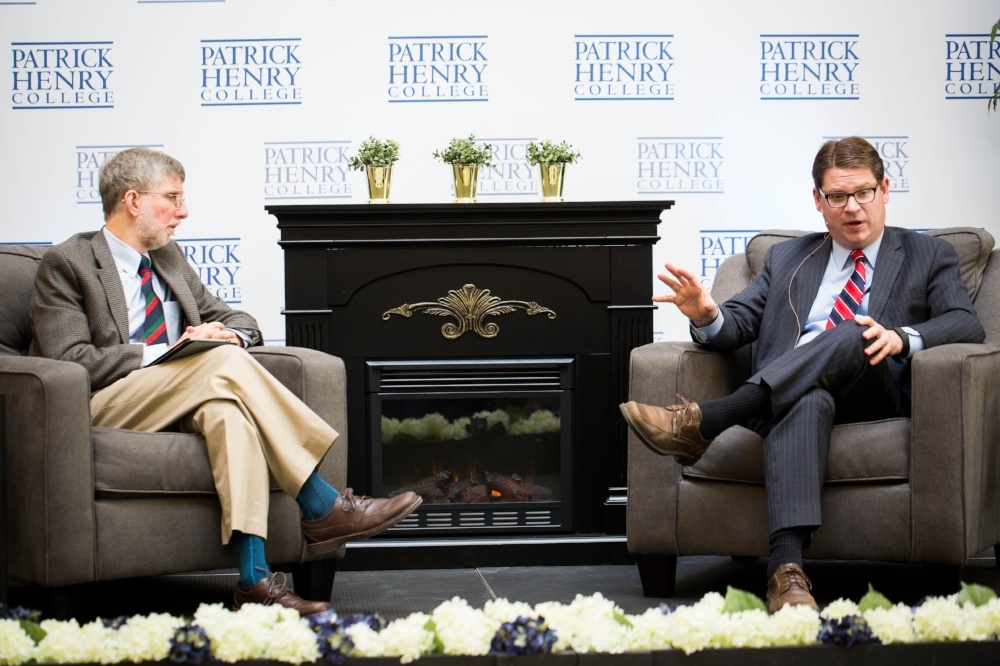 Every year, Dr. Marvin Olasky, editor-in-chief of WORLD Magazine, interviews leaders in areas like economics, philanthropy, and science on Patrick Henry College's campus. If you missed Newsmakers Interviews from earlier this week, check out these highlights from previous interviews:
Canon Andrew White, former Vicar of St. George's Church in Baghdad
White is a physician turned Anglican priest who grew St. George's congregation to over 6,000 members. He described his relationship with ISIS leaders, many of whom were his friends before the ousting of Iraqi dictator Saddam Hussein.
White has used these relationships to mediate almost 50 successful hostage negotiations with the PLO, Hamas, and ISIS.
"The key thing when you're doing hostage hunting is you need to know the bad guys," he said.
White had much to say about U.S. involvement in the Middle East.
"The first thing the U.S needs to realize is democracies don't work in the Middle East," he said. "What we need is a benevolent dictatorship, like in Jordan… When religion goes wrong, it goes really wrong. And in Islam, both religion and politics have gone wrong."
White was suspended in 2016 as president of the Foundation for Relief and Reconciliation in the Middle East when the FRRME investigated claims that he had paid ISIS to free sex slaves. White denies that any money went to terrorists. This led him to found the Canon Andrew White Ministries and Jerusalem Merit organization.
His main message to Newsmakers attendees was to live boldly.
"I always think, don't take care, take risks," White said. "People say to me 'take care' all the time. I say rubbish!"
Many students found White's words refreshing.
"I think it was a great look at the situation in the Middle East," freshman Andrew Harber said. "He is a good role model to look up to."
Frederica Mathewes-Green, author and former Vice President of Feminists for Life
Mathewes-Green spoke about her journey from being a pro-choice hippie to a devout Christian and Vice President of Feminists for Life during its early years.
In college she pursued many alternative religions. While standing in front of a statue of Jesus, she felt the voice of God speak to her. Soon after, she became a Christian.
She became pro-life when she realized abortion didn't work with her pacifism.
"I thought I was a cool person and I wasn't about to hang out with a bunch of pro-lifers," she said. "Then I found out about a group called Feminists for Life."
Mathewes-Green has debated pro-choice advocates but said oftentimes her opponents turned to ad hominem attacks.
"I would talk about everything that was wrong with abortion…then my opponent would talk about how I was a bad person," Mathewes-Green said.
She encourage pro-lifers to remember both mother and child.
"The pro-life movement was so focused on the baby that we didn't think about what was going on in the mother's heart," she said.
James Ackerman, President of Prison Fellowship
"We are warehousing men and women in prison," Ackerman said. "The US represents just under 5 percent of the world population, but we have just over 25 percent of the incarcerated population."
Prison Fellowship's main goal is to rehabilitate men and women in prison so they can become productive members of society upon release. Prison Fellowship runs an academy to facilitate their transition back to normal life.
"We use the phrase 'justice that restores.'" Ackerman said. "The whole system is helping you work towards a place where you can be productive."
The four pillars of this academy are presenting the prisoners with the gospel, dealing with the main reasons for their criminal activity, helping prisoners discover healthy relationships, and training prisoners with practical life skills.
Prison Fellowship also advocates for legislation that helps prisons rehabilitate, not just restrain.
"Our number one priority right now is sentencing reform," Ackerman said.
Previous interviews also included Brad Wilcox, the Director of the National Marriage Project, and Charles Murray, an American Enterprise Institute author and scholar, Lauren Green, Fox News Chief Religion Correspondent, and Michael Wear, a former Obama staffer, on Friday.
Upcoming interviews include Anthony Bradley, King's College professor, and George Grant, founder of Franklin Classical School, on Tuesday.
For more information, visit http://www.phc.edu/newsmakers.
--------------------------------------------------------------------------------
Reporting courtesy of PHC's The Herald.