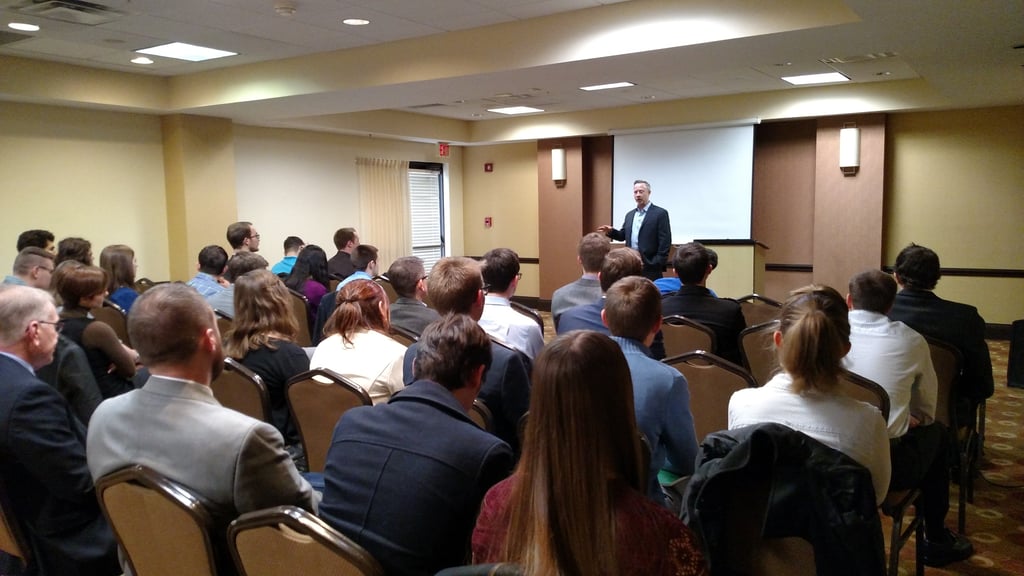 Max Everett speaks at the APP Conference
Max Everett, former Chief Information Officer of the White House and current Senior Cybersecurity Advisor for Fortalice Solutions, spoke at PHC's American Politics and Policy Conference in February. This semester's conference focused on technology and communication.
"Everett was talking about cyber security in the political sense, the corporate sense, and also the personal sense," former APP Student Chair Tim Kocher said.
Also speaking was Brent Skorup, who is a fellow at the economics research-oriented Mercatus Center at George Mason University. He used his experience in technology and economics to explain the impact of self-driving cars on society.
"There are just so many upcoming issues with technology that no one really knows anything about," said McKneely.
The conference also hosted the election of the new APP Student Chair. Sophomore Ian Frith won unopposed.
During his tenure, Kocher restructured the APP program to have more oversight. He also created the position of the APP chair.
"You're writing the book," he said. "To a certain extent, nobody has done this before, so you get to have a big role in shaping the standard for what is expected."
"Tim Kocher and Christian McGuire…they've set us on a good course," Frith said. "I want to continue that. I just think the way I approach accomplishing their goals might be a little different. I want to make sure internally it's a program that everyone enjoys working for."
He also plans to reorganize fundraising and events duties.
"I'm still trying to figure everything out, so it's a little bit nerve-racking right now," Frith said. "I'm sure as I go through the next couple days and have meetings with all the different departments I can straighten things out."
Kocher, Maggie McKneely, and Kianna Smith organized the conference, which took place Feb. 10-11.
Other speakers included Josh McGuire, former General Counsel at LeEco, a Chinese tech conglomerate, spoke about the various abuses in the patent law system.
According to McGuire, most patents are written in such a way so that it is hard to tell what they refer to. Therefore, companies can sue for inventions that are very different then what they created. McGuire claims patent laws suits cost the economy billions of dollars a year and many of them slow down productivity in America.
Michael Carowitz, an Federal Communications Commission official spoke, as did Tom Stuble, the Policy Counsel at TechFreedom, a District of Columbia-based think tank.
"Overall, it was pretty fascinating and interesting. I think people learned a lot, and I think the speakers did a pretty good job," Kocher said.
The internship fair was another integral part of the APP Conference.
"That's just a really great opportunity [to make connections]…that was the best part of the conference from a career standpoint," Frith said.
"Last year, they had only three organizations trying to recruit. This time they broadened their scope to about 10," said sophomore Alan Iiyama, who attended the conference.

--------------------------------------------------------------------------------
Reporting courtesy of PHC's The Herald.