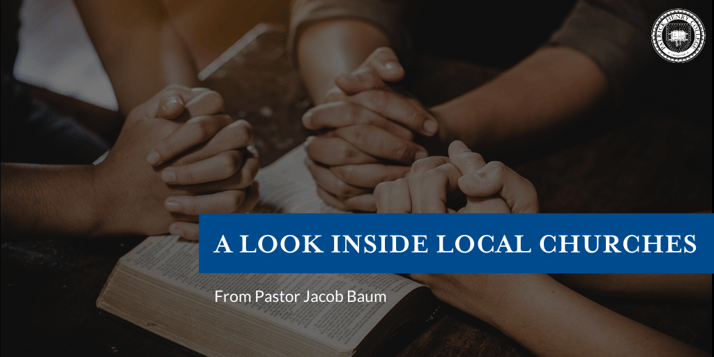 Local churches are a crucial system of support for their local communities. Recently, churches have had to make adjustments as they moved to virtual services and prayer meetings due to COVID-19. Patrick Henry College alumnus Jacob Baum has led Loudoun Valley Baptist Church since August 2016 as elder and as pastor. We asked him some questions about the church and his work during this time. Here's what he said…
What was your initial reaction to government restrictions on public gatherings?
My initial reaction was favorable towards the government restrictions. We had an immunocompromised infant in our home at the time so, in a way, we were already thinking about social distancing before it became "a thing." I know different churches and different pastors have processed this in different ways. That's not only okay—it's totally normal and to be expected. What's important is how we live with one another in understanding and godly ways during this unprecedented challenge.
Has church membership been affected?
Church membership has held steady. It's been a challenge to keep all the members engaged, but I'm grateful for the ways God has given us to stay in touch and grow in our love for the Lord and one another.
Does Loudoun Valley Baptist have plans to resume in-person services soon?
We are in the midst of coming up with those plans right now. It's very possible we will begin outdoor services sometime during June, and we'll see what happens in the month following regarding indoor services in the facilities we rent on Sunday mornings.
What are the pros and cons of doing church virtually?
Convictionally, I don't think church can really be done "online." What we're doing during this time is providing studies in God's Word and providing encouragement for our brothers and sisters in Christ at LVBC, but we're not gathering and observing the Lord's Supper and baptism. We're not singing together and hearing one another sing the truths about God. Indeed, gathering is one of the three parts of our vision statement as a church (to gather, grow, and go). In a very real way, we're not doing church right now. However, I can definitely see the Lord's gracious hand at work.
We have Zoom Bible studies, prayer meetings, and men's/women's ministry meetings regularly, along with the Facebook premiered video on Sunday mornings. I can see a growth in affection in the membership, both for one another and for the church itself. I've also been encouraged to see some of my extended family members and non-Christian neighbors tuning in at times. God knows what he's doing, but we are excited to meet as a church again and see each other face-to-face.
Has God used this experience to teach Loudoun Valley Baptist something new?
Yeah, this has been a challenging time. We have four little kiddos in the home, including an infant. Just like every other family out there, we have had our ups and downs emotionally and spiritually. But for me personally, I've been challenged to trust that Jesus builds his church.
There's a pressure for many pastors right now to sort of "show our work" more clearly, a temptation perhaps to prove ourselves. But that's never been the point. The point is to bring together the family of God in Christ for fellowship, worship, discipleship, and mission. It's never about one guy. It's about Jesus. That's definitely one of the things I've been learning. It's not necessarily new to me, but it's definitely more pronounced during this pandemic.
Do you have encouragement to share?
I just hope that this time encourages college students to see more clearly the importance of the local church (and belonging to a church where you're known and loved during your time at PHC), as well as a time to learn patience with those who may respond to this pandemic in different ways. It's a time for us to prove that the gospel is enough to unite us, not our politics or our preferences.
_________
Read other alumni stories here!