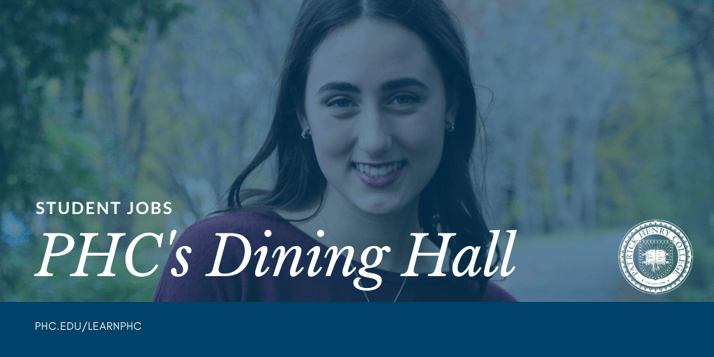 Hope Sluka, a junior at Patrick Henry College, has spent the last year working in the dining hall. According to her, it's a fast-paced job where you'll be cutting cantaloupes, wearing non-slip shoes, and making an extra bit of spending money while you're at it.
Even before she made her college decision, Sluka knew she would have to find a job. It's not an uncommon situation for undergraduate students. Georgetown University's Center of Education and the Workforce found that as many as 70% of students today earn paychecks while taking classes. The students at Patrick Henry College are no exception; many students fill rolls on campus. Some, for instance, join the custodial team or the grounds crew. There are student jobs in the Office of Admissions, Office of Communications, with the security team, the events team, and in a number of other places on campus. There's no shortage of jobs at Patrick Henry College, and picking one really comes down to the preferences of each student. For students like Sluka, there's the dining hall.
Sluka is active, loves people, and never gets tired of meeting and greeting the people around her.
During the past semester, Sluka worked the Sunday dinner shift which ran from 4:45–8:30pm. Students can work either the dinner shift or the breakfast shift which runs from 6:30–9:00am.
Sluka goes into the back of the kitchen where she beings the hand-washing process. She sets the water as hot as she can make it, grabs a hint of soap, and scrubs vigorously, making sure to wash up to the wrists and to keep washing for about 20 seconds.
She then throws on the standard-issue dining hall apron and a hat.
"It's not a terrible look," Sluka said.
There are three different stations in the kitchen. There's the dish pit, the serving line, and the basement kitchen. The serving line is almost always where student workers end up. It's by far the most social position and it's here where Sluka became friends with her future roommate, Katie Sutton. Between serving plates of food and making sure the serving trays aren't running low, it's a whirlwind of faces and orders. Sluka gets to see students and faculty she wouldn't otherwise run into.
Besides the students, Sluka has gotten to know a lot of the kitchen staff. Working the kitchen is very team-based; It depends on a strong sense of community and an emphasis on teamwork.
Right now, Sluka is working an internship at a non-profit organization in Minneapolis, Minnesota. Next semester Sluka will begin work in the Patrick Henry College library. She likes to think that her time in the dining hall added to her college experience by bringing in her closer to the community around her. And now she can make pizzas! Click here to learn more about the dining hall at Patrick Henry College!
-----
Learn how PHC stands apart from other Christian liberal arts programs.
Patrick Henry College exists to glorify God by challenging the status quo in higher education, lifting high both faith and reason within a rigorous academic environment; thereby preserving for posterity the ideals behind the "noble experiment in ordered liberty" that is the foundation of America.