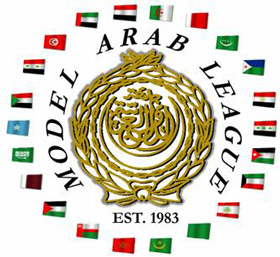 "What ideas do you have, Syria?"
The other members of the delegation watched me expectantly. They wanted to know what ideas I had, and I needed to come up with something fast.
I was not trying to debate. This was the Model Arab League. And I needed an idea for responding to the infiltration of Hamas troops in the middle of an envi­ronmental crisis in Yemen. The Model Arab League (MAL) is an academic simulation of the 22-mem­ber Arab League. Similar to the Model United Nations (NMUN) competition, MAL aims to simulate real world geopo­litical situations that participants must work together to address. PHC's first ever team competed last weekend. Jared Midwood and Thaddeus Tague won the Outstanding Delegation award, and Juli­anne Owens was awarded a Distinguished Delegate award. It was an excellent show­ing, especially considering that the team was formed merely few months before the competition.
When Julianne approached me a few months ago and asked about the pos­sibility of starting a Model Arab League club on campus, it sounded fun. I won't pretend it wasn't all a bit stressful, trying to come up with everything we needed within a few months. Of course, there was the initial worries over finances, approval, and whether we would have enough team members. But everything worked out, and PHC's first team of eight students was ready to represent the Syrian National Coalition at the conference. Last Satur­day, we pulled out of campus at 7 a.m, and one Panera stop later, we pulled onto the Georgetown University campus.
Georgetown, to be concise, is beauti­ful. On every corner, there are antique brick buildings, colorful townhouses, and places like "The Center for Muslim-Chris­tian Understanding." What better place for "cosplaying," as Thaddeus described it, the leaders of the Syrian democracy movement?
PHC's team represented the Syrian Na­tional Coalition, not the Assad regime. That made things somewhat interesting. Delegates in my committee representing oil-rich nations like Qatar and Saudi Ara­bia stood up announcing that they had plenty of money to contribute to solving the problems in Palestine. I, however, had to say things like:
"The Syrian National Coalition cannot contribute financially but I am willing to work with all members of this committee to achieve workable solutions."
I was somewhat thrown off guard, when our committee chair asked us to tell her our names, majors, and one fun fact. "What is this, wing chapel"? I thought to myself. It was quite different from Model U.N., where everyone remains formal and decorum is strictly maintained. There were other differences between the two formats, which was slightly disconcerting considering most of our team meetings had been based on the assumption that "It's just like Model U.N., but smaller."
At MAL, the primary work is done in moderated caucuses, in which delegates engage in a moderated discussion on one particular topic. Unlike at NMUN, where most of the work is done in infor­mal groups and you might only finish one agenda item over three days, we were ex­pected to complete at least 3 agenda items.
As for the delegates, MAL attendees are varying levels of brilliant. They rattled off impressive areas of study, double majors and double minors in everything from Asian studies to Civil War history. It all felt slightly intimidating; I'm a textbook introvert only majoring in one thing. But spending just one session sitting in the corner can cost you an opportunity to actively contribute to discussions. The awards at MAL are chosen by votes from other delegates in your committee, so there is no time to waste on introversion.
As the weekend progressed, I real­ized how much the simulation forces you to think through your preconceptions. While working on the Council on Pal­estinian Affairs, the majority of the del­egates were certainly not exactly fans of Israel's policies in Palestine. But these were not anti-Israel liberal fanatics. They were intelligent and well informed, and they had opinions worth considering. It is one thing to engage with opposing in the context of a debate, or through the pages of an article. It is quite another–– and far better –– to discuss them on a one-to-one basis.
All in all, I'd say PHC's first Model Arab League experience was, overall, quite successful. We enjoyed preparing together, and I know we all walked away from the conference with a more complete understanding of Middle Eastern affairs.
Side note: turns out the economists are right: competition is an excellent mo­tivator, since I'm sure we "accomplished" more in two days than the actual Arab League has in a year.