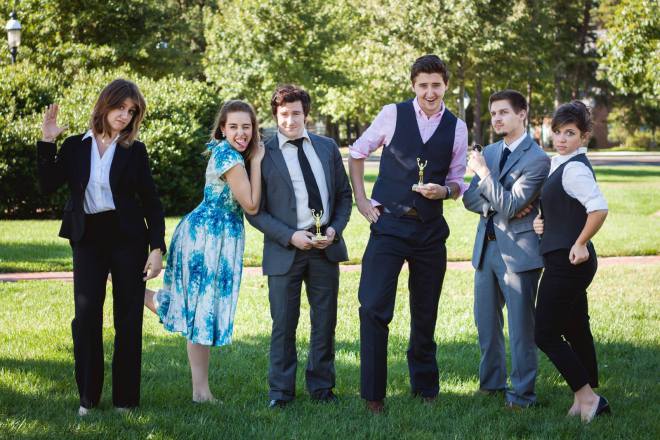 Students are dusting off their suits, working on Jersey accents, analyzing characters, and studying legal documents as mock trial season launches into full season.
Students are dusting off their suits, working on Jersey accents, analyzing characters, and studying legal documents as mock trial season launches into full season.
A few weekends ago, one of PHC's mock trial teams placed third at Elon University's tournament. Additionally, Drake Jones and Phillip Bunn were ranked first and second witnesses. The team also beat one of Duke's best teams.
This year's case examines the bribery of a public official by a casino owner. The problem is complex, presenting many different strategic options in trying the case.
Three teams will go to tournaments this semester. "We won't go to as many tournaments this semester," explained Dr. Frank Guliuzza, the Mock Trial coach. The traveling teams will see different cases and arguments. "Then we'll shut down travel, and we'll wait until after moot court is over," Guliuzza added.
Unlike previous years, Guliuzza is sending a novice team to a tournament this semester. "We have one team made up of seniors and we didn't send them to a tournament this semester," Guliuzza said. Instead, the novice team will learn more about the mock trial case and competition style.
Although the teams will attend a few tournaments this semester, the season really begins in the spring.
"Mock trial is kind of like basketball instead of football," Guliuzza noted. The majority of competition takes place after the moot court season is finished.
In the spring, PHC plans to host an invitational tournament for mock trial. Guliuzza expects around twenty teams and three to four PHC teams will compete.
"I started mock trial because I needed a forensic activity for the spring semester," sophomore Brenna Bakke said. "It just sounded fun and different ... it's more talking and acting instead of boring debate."
Bakke's team leaves this weekend to compete at William and Mary's tournament. "The tournament is coming right in the middle of midterms, which is a little scary," Bakke noted. "But I know everything is going to come together on the drive down and in practice rounds the day before."
As a witness, Bakke is learning a new rhetorical skill. "I've never done any acting or theater, and this is much different from the policy debate that I'm used to," she explained. "I have to learn how to get into a totally new character ... and learn how to do a good Jersey accent!"
"I enjoy mock trial because it's an adrenaline rush built on knowledge of trial court and sprinkled with a bit of Broadway," said junior Andrew Kelly. "It's a blast, and the people I compete with are my favorite. We are a team."
Even students who do not wish to pursue law could benefit from mock trial. "I would encourage them to do mock trial … because the expertise for how to talk about issues, respond spontaneously, and communicate effectively are all [necessary,]" Guliuzza noted. Just as anyone can learn from a literature or political theory course, students can greatly benefit from participation in mock trial.
Not to mention the fun. "Our team is full of people from different backgrounds, and we have a ton of fun together," Bakke added. "We work hard and all of my teammates are so talented, but we also know how to let loose and laugh at ourselves sometimes."
"If they want to go to law school," Guliuzza added, "we've never had a mock trial student who wanted to go to that didn't get in."
--
Learn more about pre-law opportunities at Patrick Henry College by clicking the button below!