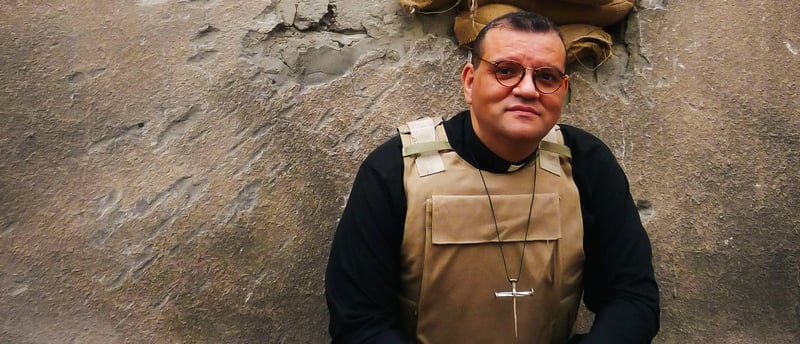 This spring, Erick Stackelbeck had the opportunity to interview Canon Andrew White, also known as "the Vicar of Baghdad," on Patrick Henry College's campus. Stakelbeck is Director of Christians United for Israel's CUFI Watchman Project and host of "The Watchman" program on TBN, spending nearly two decades years covering the Middle East and national security issues in-depth. In the following video, Canon White sits down with Stakelbeck and describes his personal interactions with ISIS and Christian Persecution.
"When you've lost everything, Jesus is all you got left. Well, we have lost everything... but not Jesus. He was always there."
Biography
Canon Andrew White, former Bishop at St. George's Church in Baghdad from 2005–2014, has extensive experience with conflict mediation in Iraq and the wider Middle East. Previously, he was the President and CEO of the Foundation for Reconciliation in the Middle East, and in late 2016 founded the Canon Andrew White Ministries and Jerusalem Merit organization to provide relief and reconciliation in Jordan, Israel, Palestine and elsewhere in the region. He has written extensively about conflict resolution and has been involved in multiple hostage negotiations.
White lived and served amidst some of the most violent, protracted conflict in the world for nearly a decade. While serving in Baghdad he was held at gun point, hijacked, assaulted, kidnapped and imprisoned in a cell full of severed fingers and toes. More than 1,200 men, women and children who worshiped with him have been killed in recent years, he says. Four boys he knew were beheaded because they refused to swear allegiance to Islam. The church caretaker was forced to watch as his five-year-old son was cut in half. Despite these conditions, White grew his congregation at St. George's from 60 to over 6,500 as the vicar of the only Anglican church in Iraq.
--------------------