When sophomore Kara Brown spotted the tiny Afghani girl distancing herself from the other children outside the refugee camp in Greece, Brown made up her mind to befriend her. Brown crept around a pillar and poked her head around, attempting to coax a smile from the forlorn figure. It worked. The girl paused between bites of her cheese and crackers to chuckle at Brown's ridiculous antics.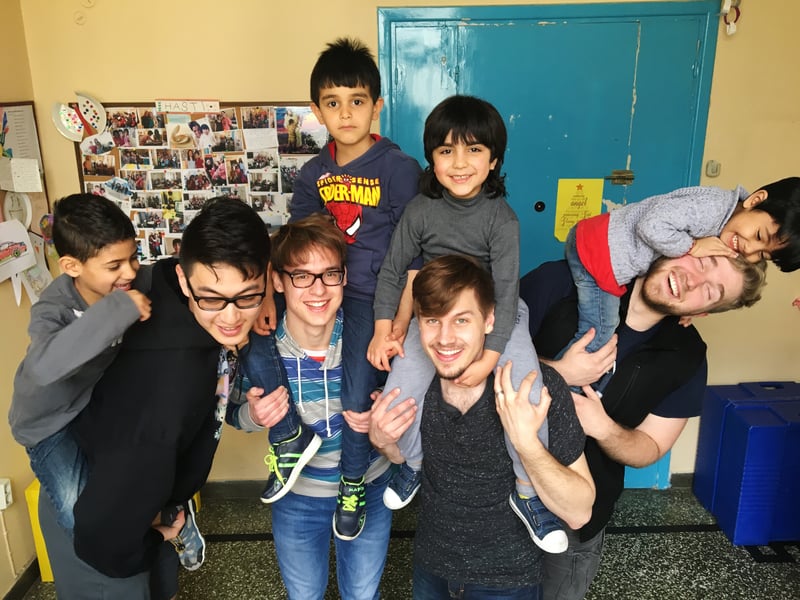 She finally laughed so hard that she fell off her chair, muddying her hand. She looked up at Brown and held up the dirtied hand, signaling with a water sound that she needed to wash it. Without understanding a word that the other spoke, they formed a bond. By the end of the day, the girl began playing with the other children at Brown's encouragement.
"She grabbed my leg and hung onto it, and I just gave her a hug," Brown said. "I was hugging her and I thought Wow, I didn't realize that I could love someone so much in such a short amount of time. Before that she wasn't playing and she didn't want to do anything. But now I was leaving, and she ran back to her little friends [who were playing] at the shopping cart. I felt like I did a really good thing."
Brown was one of the many PHC students surrounded by children and adults in desperate need of love this past spring break. Two mission trip teams – the Greece team partnering with a ministry called Streetlights and the Honduras team with World Gospel Outreach– traveled to their respective countries to give their hands and feet to Christ for the week. Brown spent her time reaching out specifically to refugee children, while other PHC students found themselves pulling rotten teeth and evangelizing in Tegucigalpa, Honduras.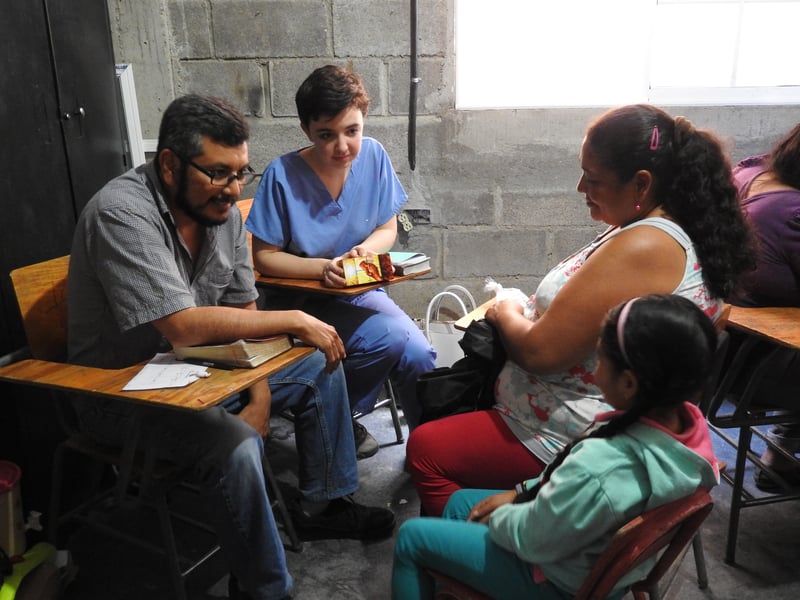 An evangelism session in Honduras (Credit: Elyssa Edwards)
"Our goal was to bring a smile to a child's face, to provide laughter when they may not have laughed recently," Greece team member Julianne Owens said. "There's something so precious about parents watching their children laugh. Many of these children have been through circumstances that have stolen a lot of joy."
The Greece mission trip collaborated with Streetlights, a ministry that builds relationships in the refugee community by "making a joyful noise." They organize flash mobs, play songs, have fun, and then share the gospel with the gathering crowd of refugees in the area.
During a soccer game with the refugee kids, Owens noticed that the members of the ministry knew each of the kids' names and their backgrounds in the area.
"We were partnering with a ministry that had been there for a long time and that is going to remain there for a long time. We came alongside them for a short season to help get the word out, to help plant the seeds that they would be able to cultivate for a long time," Owens said.
The Greece team visited all three Greek contexts for refugees seeking asylum – apartments, squats (abandoned buildings acquired by refugees from the government), and refugee camps. Unsanitary conditions often characterize refugee camps, which are dependent on outside aid. The Greece team interacted with Syrian and Afghan refugees and were surprised to learn that the Afghan refugees are generally less affluent and more desperate than the media-hyped, government-funded Syrian refugees. Some of the Syrian refugees arrived and left for Germany during the duration of the mission trip, whereas many of the Afghanistan refugees had remained stagnant, without prospects and in poor living conditions, for a year.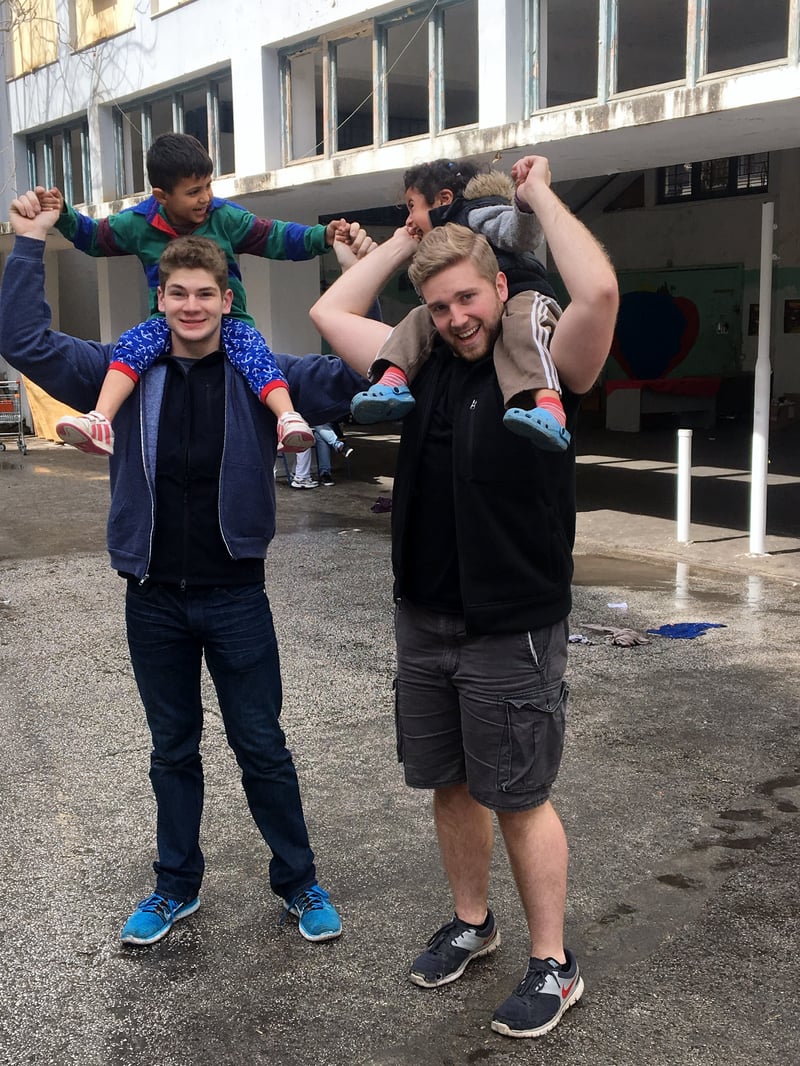 Greece team members with refugee children (Courtesy of Julianne Owens)
"The refugee camps were heartbreaking," Owens said. "The kids were so unhealthy. They had teeth rotting out. They had deep scars on their faces. Some of them had black and green eyes like they were dehydrated or fatigued. That was one of the most jarring elements of the trip for me."
Brown was hesitant to invest as deeply as she wanted to in the lives of the Syrian and Afghan refugee children at first.
"I was worried that we would go and have this great experience for ourselves – get our good little photos for Facebook and stuff – and then leave, having built this expectation for these kids that there is someone who is going to play with me every day," she said. "Are we just adding to the pile of disappointments in their lives?"
Then Brown met a boy named Mati on the trip while painting kids' faces. She attempted to paint the right image on his face, but when he looked in the mirror she provided, he became very grave. The 4-year-old boy uttered, "Oh… No good. No good."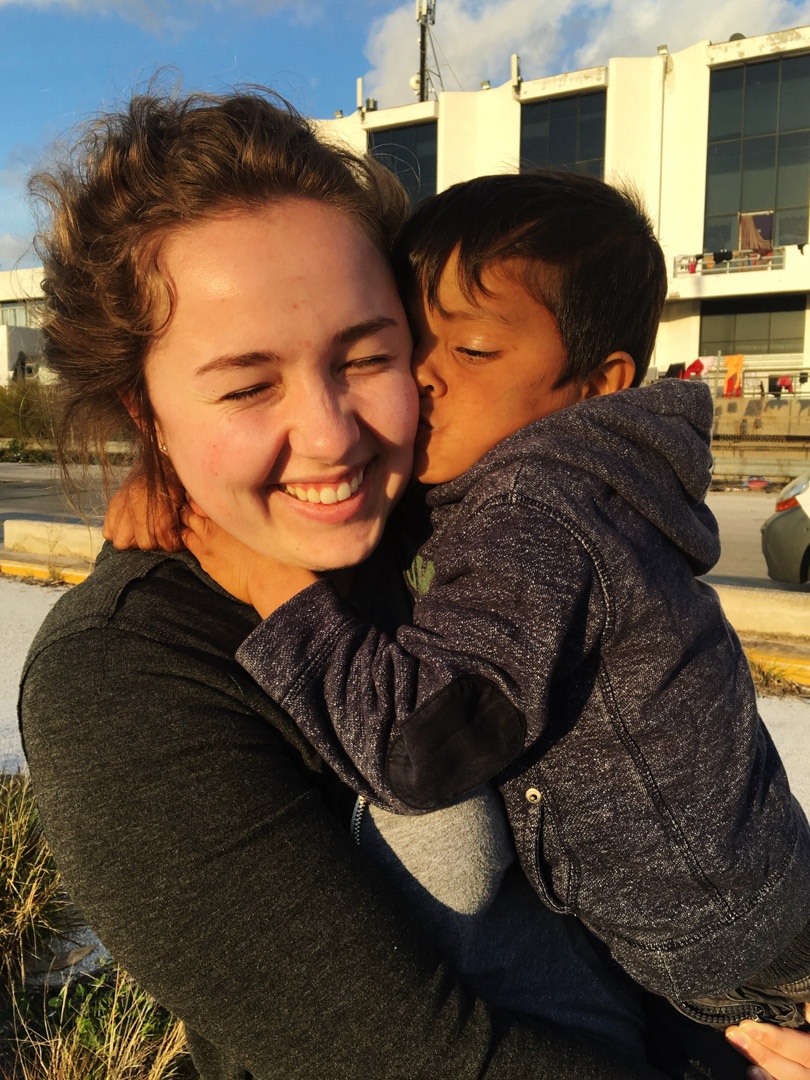 Brown, alarmed, tried to remedy the situation by letting him paint her face. Mati finally agreed, and proceeded to meticulously paint a mustache on her face before moving on to her nails. He couldn't pronounce Brown's name, so he called her "my friend."
"I had not seen Mati hang out with any adults, so I didn't know if he had any parents," she said. "But the last day when we were leaving I met his dad and I met his sister, and his dad seemed like he really cared about him. So, I just thought, Okay, he has a family. And I realized that every day he smelled good and was wearing different clothes… I realized, maybe we're not changing the world, but we're making someone smile a little. We're leaving, but we're not devastating them at the same time."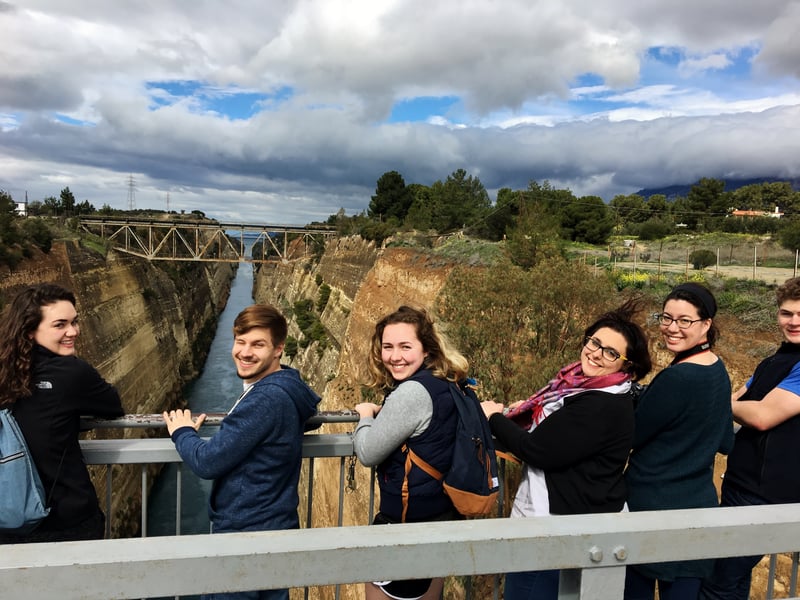 Members of the Greece mission team (Courtesy ofJulianne Owens)
Owens was grateful for the fast-paced itinerary full of three to four projects a day, and short rests on the Greece trip.
"I did not go to be comfortable. I did not go to be well-rested, and I did not go to be clean. I was going to be frustrated if that was an emphasis, and I was so glad that it wasn't," Owens said. "Our team had the right perspective… Some of us were very spiritually taxed and physically fatigued, but that was what we were there for, and because you had this team of people who were there for that reason, it created a really strong unity rather than divisiveness."
The Honduras mission team partnered with WGO, an organization that partners with local church to provide free pop-up medical clinics in Tegucigalpa's poorest neighborhoods. Everyone who received care had to participate in an evangelism session. At the end of each "brigade," as the two-day medical clinics were called, WGO presented a list of everyone who accepted or recommitted to Christ to the church's pastor so he could bring them into the fold.
When asked to evangelize at a brigade, sophomore Neil Durning realized that he was not as comfortable with sharing the gospel at first. When he came face to face with kids who needed to hear it, he felt terrified and did not know quite how to approach the subject. However, his translator gave him a few pointers, and he soon realized that the gospel can flow naturally in conversation. God used Neil to bring a few people to repentance and give their lives to Christ that week.
"Evangelism is something I was never comfortable with, but I think after that week I became pretty comfortable with it," he said.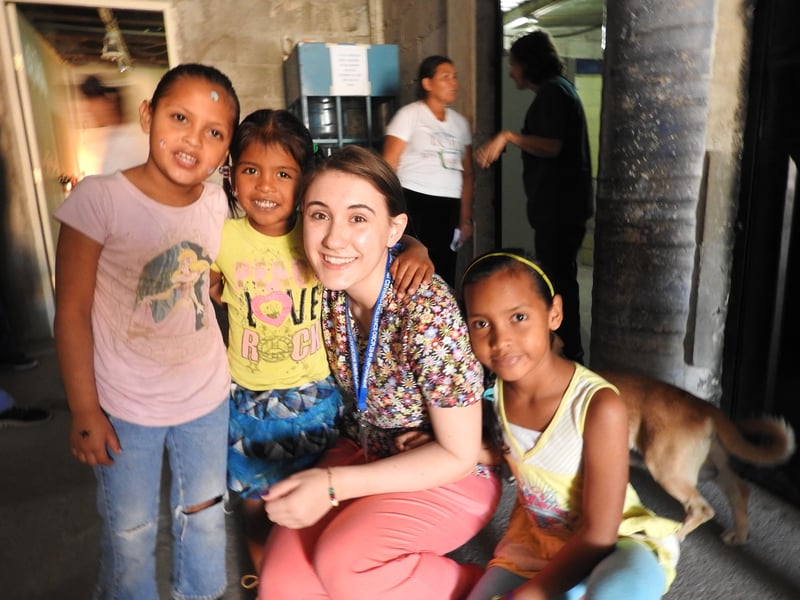 A Honduras team member with children from Tegucigalpa neighborhood Las Casitas (Credit: Elyssa Edwards)
Senior Clayton Millhouse had worked with WGO in Tegucigalpa three times before leading the team of eight to Honduras.
"The trip was an idea the Lord gave me about two years ago," Millhouse said. "I sent a few emails, knocked on a few doors, but otherwise, it did not pan out. But when I was down in Honduras this past summer, there were several confirmations from different people that it was time for me to try to organize a trip down there. I was not even asking for the confirmation. I had just been praying that week that the Lord would make it clear what I was supposed to do next in Honduras. And he did."
Alumna Elyssa Edwards was a part of the Honduras team.
"My favorite moment from the trip was watching people's reactions as we helped them," Edwards said. "From my perspective, we weren't doing much - washing hair, giving them a few aspirin, some vitamins, cleaning their teeth, etc. - but it made their day. The Hondurans had a joy and contentment in simple things that is foreign to most Americans, and it was an honor to witness it."
--------------------------------------------------------------------------------
Reporting courtesy of PHC's The Herald.