Homecoming 2017
Join us for a full day of fun, food, and friends at your alma mater!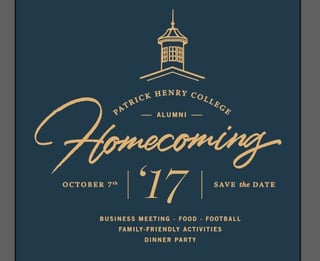 HOMECOMING 2017 SCHEDULE
Friday, October 6th
7:30pm - Coffee House Variety Show - BHC Coffee Shop
Saturday October 7th
10:00am – 12:00pm - Alumni Business Meeting
11:30am – 2:00pm - Block Party (food, games, inflatables, family-friendly activities, and more!)
2:30pm – 4:30pm - Alumni vs. Student flag football game
6:30pm - 10:00pm - Alumni Dinner Party
Free childcare will be provided on campus during the Alumni Business Meeting and the Alumni Dinner Party, courtesy of the PHC Alumni Association. For further details and to sign up, please email Stephen Williams.
*Schedule subject to change