From History Major to Border Patrol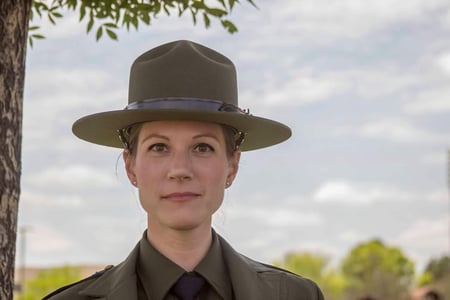 October 2016
Originally appeared in The Herald.

Stephanie Salomon and four other Border Patrol agents met up with the two agents who had called them for backup. After hours trailing a group of aliens avoiding the border checkpoint, the two agents decided to close in. Salomon listened as they explained where they thought the group was hiding, and they split up. The sky was dark as she crept through the south Texas brush, her eyes scanning for any clues - a footprint, a broken branch - that could tell her where to find them.

The sound of a loud snore broke the still night. Salomon could tell it was coming from a nearby cluster of low-growing trees. Inside, she found four men sleeping. A heavyset man in his thirties or forties was snoozing soundly, an ear-splitting snore emanating from his mouth every few seconds. Salomon suppressed a laugh as she and her partner handcuffed them.

The other agents had found more men in the group. Three or four had fled, but the seven agents arrested seven men. Morning light spread across the sky as Salomon and the other agents led them back to their vehicles.

Salomon joined Border Patrol in January 2016. She graduated from Patrick Henry College in 2011 with a history degree, and worked as an EMT and paramedic in Loudoun County for four years. Over 6,000 women applied during the same window as she did. Only 54 were hired.

"One of the issues is that some of my male coworkers don't always treat me as equal," she said. "Not just because I'm new, but because I'm female. They have a stereotype of female agents and they automatically apply that stereotype to me."

Salomon is among seven new agents learning the ropes at a Texas Border Patrol station located 100 miles from the Mexico border."I miss the rolling hills of Virginia," she said. "Down here it's different. I'm getting used to the weather, to the town, to being halfway across the country where I don't know anyone, and then learning a new job."

Salomon grew up homeschooled in Whittier, Calif. She started at PHC in 2007. While earning her degree, Salomon took free classes through Loudoun County Fire and Rescue. "I gave back by spending time practicing as a medic," she said. "I enjoyed volunteering with the rescue squad and fire department while at PHC. That was a big part of my life."

After graduating, Salomon worked for Physicians Transport Service, a local company that moves patients between hospitals.Salomon graduated from EMT to a paramedic in March 2014 -- a change that put her in charge when pulling shifts at the rescue squad.

"You walk in on utter chaos and everyone looks to you to bring organization," she said.

Salomon volunteered for local fire departments and rescue squads while working at PTS, but most of her time was spent doing inter-facility transports. "They aren't terrible exciting," she said. "When you're there to pick up that patient, you already know their diagnosis and vitals. I like 911 better because someone calls, you show up, and you don't know what you're getting into. It's more dramatic."

Salomon's love of excitement and challenging herself made her want something new. She applied to the National Park Service in 2012 but was rejected. She heard from a friend in paramedic class about Border Patrol in December 2014."He said Border Patrol was hiring, and they had a female-only announcement," Salomon said. "I didn't want to move to Texas, but I applied anyway."

The application was arduous and included a written test, physical fitness test, and polygraph. Salomon found out she got the job on Black Friday of 2015 while at the mall shopping for a Christmas Ball dress with her younger sister Abigail, a PHC freshman at the time. A little over a month later, she was in Artesia, New Mexico, starting her first day of Border Patrol Academy.

At the academy, recruits learned about everything from constitutional and immigration law to tactics and firearms. Monday through Friday, they attended class and did physical training. On weekends, the academy bused Salomon and her classmates to hike national parks. "I wanted the job very badly and my prior experiences with firearms wasn't great," she said. "I was freaking out… and of course, that makes your shooting worse."

Supervisory Border Patrol Agent Crystal Portillo instructed Salomon. "She reached out to me because she was having trouble in firearms," Portillo said. "It helped coming from a female agent telling her everything was going to be okay and working through it. She's definitely a hard worker, someone that won't give up."

With help from her instructors and classmates, Salomon improved her technique. She spent hours dry-firing her .40 caliber, practicing her stance and preparing herself for the recoil. She qualified that March with the best score she'd ever received.

Salomon entered the field in June. She can't say where her Border Patrol station is.

"It's not necessarily safe to be on Border Patrol," she said, because criminals often target agents. In her position, she rotates between three tasks: working in the processing center, manning a border checkpoint, and tracking and arresting individuals avoiding the checkpoint.

"It takes interesting skills I never thought I'd use," Salomon said. "It's all about little details… You have to outthink them when you find their trail, make up time, and figure out where they've been." Salomon is counting down the days until Jan. 11 when she will be taken off probation and can become a Border Patrol paramedic.

"The reason I picked Border Patrol is because I can respond to 911 calls," she said. "Coyotes [human smugglers] are not nice people. If a guide sees trouble, he'll split, and he doesn't care about the people he's leaving behind because he's already been paid. Aliens call 911, and we find them."

Being one of the female agents at the station is tough, but Salomon is determined to push through.

With every exhausting hike, late shift at the checkpoint, and dead end while tracking, she is proving herself to her fellow agents. "With her now at the station being one of the only females - she's still trying, and she hasn't let that break her down," said her former instructor Portillo.