Alumnus Novelizes Come What May; Screening Jan. 21
January 10th, 2012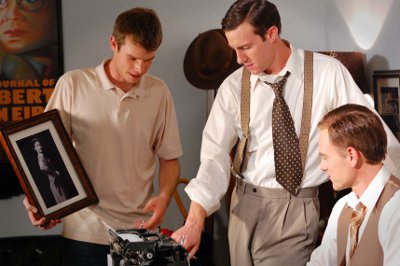 During his time at PHC, PHC literature grad Peter Forbes ('09) put his passion for impacting the culture for Christ to work through a series of creative literary and cinematic productions. After initially gaining experience with the campus film club Streaming Media Network, he signed up to serve as a production manager for the Christian feature film Come What May, a story about the challenges facing two fictional members of PHC's championship moot court team. Peter continued his film apprenticeship as a long-term intern for Purcellville-based Advent Film Group and worked on four productions under the guidance of Advent founder George Escobar.
This past fall, Forbes directed his own micro-budget film Writers' Block, the story of two writers combating studio pressures and clashing ideals "to deliver a script by morning." It's the inaugural film of the new Advent Associates Film Program.
With plans to pursue other film projects, Forbes also recently self-published his first book, the novelization of Come What May. As with the movie, the book tells the story of "a college student who must choose whether or not he will stand for his convictions, even if this means sacrificing his own desires." On January 21 at 6:30 p.m., Advent Film Group (AFG) will screen the film in PHC's Barbara Hodel Student Life Center, and Forbes will sign copies of his book. The public is encouraged to attend.
While continuing work on post-production for Writers' Block, Forbes has now moved back to his home state of Colorado for a season, working while he develops other film projects. He is also writing a second novel and developing a children's book and some graphic novels.
"I graduated from PHC with the desire to pursue storytelling across a wide range of media, from fiction to film, graphic novels to video games, and more," he explains. "That desire hasn't changed, though I know it doesn't come to fruition overnight. [Developing a storyteller] is a long process, often years."
Understanding that the challenge of any burgeoning creative artist is to sustain his dedication while he develops his craft, Forbes embraced his extended apprenticeship with Escobar and Advent Film Group, receiving unprecedented, hands-on experience while developing and managing "micro-budget" movies. In so doing, he endured the long hours, lean times, and behind-the-scenes drudgery that accompany the difficult, uphill journey of establishing an independent Christian film company.
"My passion for story has deepened, but probably because I have a greater appreciation for the process of taking a story from my head to the press or the screen," relates Forbes. "The work, some of it much more than I expected, tempered that desire with dedication."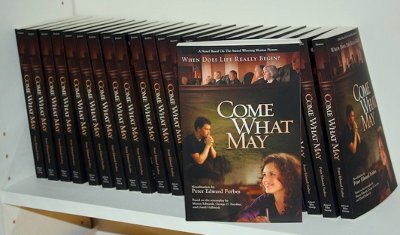 Concerning Forbes' novelization of Come What May, Escobar smiles and says that it is "better than the movie," which has received broad national exposure through limited theatrical screenings and through its distribution by the American Family Association, which eagerly endorsed its unapologetic pro- life message and helped drive sales of 80,000 DVD copies. In the movie, new Christian Caleb eyes a national championship as a member of Patrick Henry College's championship moot court team but is faced with a daunting moral quandary: the choice of arguing for or against the abolition of Roe v. Wade, the landmark anti-life Supreme Court decision. His decision could undermine his chances and alter his future. Meanwhile, viewers are offered a dramatic overview of key Constitutional issues surrounding this divisive societal ruling.
"I hope that in some way, this book will encourage people to see human beings, unborn or born, as deserving of respect as image bearers of God," Forbes says.
Beyond his cinematic endeavors, Forbes has also left a legacy at PHC. During his senior year he founded PHC's annual Call to Pens writing contest, now in its fourth year, as a way to inspire young writers and encourage them to tackle spiritual themes in their short stories. He envisioned the contest as a literary compliment to HSLDA's contests in poetry, art, and photography.
"They didn't have anything for fiction," he recalls. "As much as I would have loved entering one as a kid, it seemed like a perfect fit."
Junior Alicia Constant is managing the 2012 contest, which is currently open for entries until February 1.
Please join the PHC community at the January 21 screening and book signing of Come What May at PHC, 6:30 p.m., in the Barbara Hodel Center gymnasium. The books are available through the Advent Film Group website.