Communications Advisor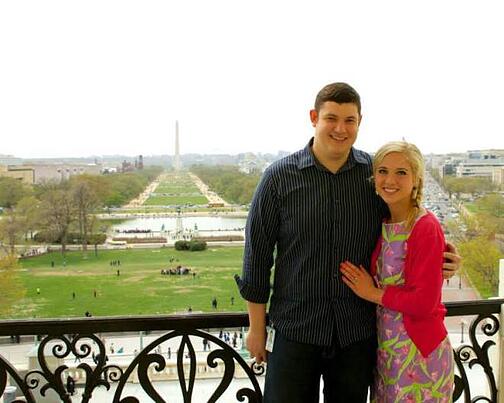 September 2015
In early March, Matt Wolking (APP '09) was one of hundreds in a crowded room where Israeli Prime Minister Benjamin Netanyahu addressed a joint session of Congress. During a 2015 congressional recess, Wolking and his co-workers toured the deep reaches of the United States Capitol, including the basement corridors where Senators used to bathe in Italian-crafted marble bathtubs installed in 1860. And every day, Wolking stands at his desk in House Speaker John Boehner's office, looking through a large window to the National Mall.
As a child from northern Kentucky touring Washington, D.C. with his family, Wolking never thought he'd be working at a place with so much significant history, and where world-impacting decisions are made every day. Now, as a Communications Advisor for John Boehner, Wolking credits God for directing his path from college to Congress. "Not getting the job that you want sometimes leads to something better," Wolking said. "I definitely see it as a God-thing."
During his last semester at Patrick Henry College, where he majored in American Politics and Policy and planned to work in politics through campaigning or communications, Wolking interned for Laura Ingraham's talk radio show. Not long after graduating, he received a call from one of Ingraham's producers, who asked if he would like to interview for a position. He worked as an associate producer until the executive producer left eight months later, at which point Wolking was promoted and ran the entire show.
While "working in media was a fun way to impact politics," Wolking said, he eventually felt the need to see how things were done on the "inside." That's when he began looking at jobs in Congress.
After applying to several press secretary and communications director positions in Congress (including a position in Boehner's office), Wolking still wasn't getting hired. That's when he received a call from the office of Rep. Tim Griffin (R-Ark.), current Lt. Governor of Arkansas. Wolking worked in Griffin's office for more than two years, first as a press secretary and then as the communications director.
"Any time that I was trying to find a job and doing lots of interviews, none of those ever worked out, and then all of a sudden an opportunity popped up," Wolking said.
Wolking found out that Griffin was not running for reelection. Not interested in following Griffin to Arkansas, Wolking knew he would have to look for another job – until an unexpected email appeared in his inbox. It was from Boehner's communications director with an invitation to interview for a position in the Speaker's office. Wolking got the job.
On an average day, Wolking's responsibilities vary from writing press releases about current events, to researching policy and writing posts for Boehner's official blog, to managing the Speaker's Twitter account.
One blog post Wolking wrote about the Obama administration's lack of transparency was picked up by a New York Times opinion writer, who responded with a piece entitled, "John Boehner's Right on Executive Secrecy."
Looking back, Wolking said his government classes with Dr. Michael Haynes and the late Dr. Frank Guliuzza and his history classes with Dr. Travis Moger, influenced him the most.
"Those classes really prepared me in terms of thinking about policy issues and debating policy issues," Wolking said.
Wolking doesn't have a specific vision for what's next, but plans to continue letting God direct his path.
"I think it's good…if you enjoy your job, get the experience and see what doors may open up in the future."
In 2019, he published an opinion article with Fox News on President Donald Trump's impeachment.