Alumni Profile: April Wright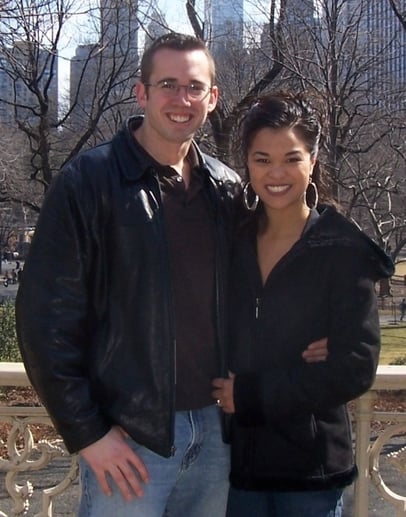 During the day, April Wright, a 2007 PHC graduate, is the model housewife. She and her husband, Brian, have been married for two years and now live in Columbus, Ohio, where Brian attends law school at Ohio State University. But at night, April takes on a new role—rehearsing and preparing for plays at her community theatre.
April's acting "career" got started at PHC, where she acted in Eden Troupe's productions of Pride and Prejudice and Cyrano de Bergerac. During her final semester, April co-directed PHC's first musical production, A Tale of Two Cities, a play written by PHC's own Kirsten Winston Dalton.
Most people think of PHC as a school focusing only on politics and debate. But April believes that PHC's drama program prepared her current acting aspirations.
"Very few of the other theatrical groups I've been in are half as organized and well-run as most Eden Troupe shows!" April said.
Now, over a year after graduation, April has acted in community theatre productions Beauty and the Beast and Pirates of Penzance. Most recently, April has played the role of Portia in Cinderella.
Since 2008, she has been performing or rehearsing, sometimes simultaneously, without any break between shows. "It gets a little exhausting," she said. "But I love it! I'm already preparing for the next audition!"
The only downside to acting "is living up to the 'starving actor' stereotype," she said, half joking.
"There are so many reasons why I love acting and drama," April said, noting the bond and the close friendships that develop during a production, and the adrenaline rush that comes with a getting a reaction from the audience.
April sees her Christian worldview as a special benefit to her passion for theater. "Drama is such a powerful medium for communication," she said.
For example, the play Macbeth can be portrayed as extremely dark and nihilistic, she said. Conversely, "I've seen it infused with a message of hope and redemption."
"Same script, same characters, but completely different message," April said.
When she is not acting, April also enjoys teaching, writing, and more specifically—scriptwriting. Currently, she is working on adapting two works for production, one of which is a musical adaption of Henryk Sienkiewicz's The Deluge.
Still, as much as April loves the stage, her first commitment is to her family and friends and to following God's leading. Her future will depend in large part on what direction Brian takes, and how much time is left over for the stage once they start a family.
But drama has always been more than a hobby for April Wright—it is one of her life callings. Someday, "if I could be directing a successful theatrical group in my own musical adaption of Henrik Sienkiewicz's The Deluge… that would be incredible!" she said.
"Those are my plans, at least," April said, "but with all plans, we'll see what God does with them!"